by Michael Andersen (Contributor) on July 13th, 2016 at 9:56 am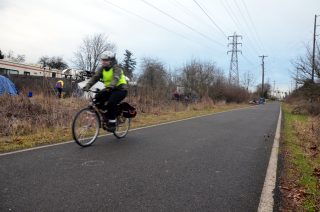 It's been a week since someone living on the Springwater Corridor survived a gunshot and months since it became maybe the largest single tent camp — tent suburb? — in Oregon.
Consciously tolerated by the city government under an uneasy compromise brokered by Mayor Charlie Hales and his (now former) chief of staff Josh Alpert, the encampment has gotten more and more complicated as it's become a more common place for people without a roof to look for refuge. It's also gotten harder for people biking on the Springwater to ignore. With Alpert gone from the city as of July 1, the camp's future is newly uncertain.
Thacher Schmid (who I should disclose is also a personal friend of mine) is a freelance reporter based in Portland, writing in this case for his own website. He rode his bike to the camp last week and spent a few hours talking to people there about their lives and the city's efforts to reduce, manage and regulate homelessness.