Wednesday, April 8th, 2015
A Portland Development Commission map of the "Broadway Corridor." The PDC is meeting this afternoon to re-up their negotiation to buy the post office site at the base of the Broadway Bridge and fast-track a planning process for the area.
(Image:
PDC
)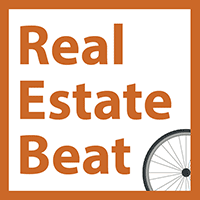 If Portland's main post office signs a deal to relocate, a huge payoff for biking could be hiding between the lines.
As the Portland Development Commission meets this afternoon to consider putting up $500,000 to reboot negotiations over moving the operation from the Pearl District to a new hub near Portland International Airport, advocates and planners are watching with great interest.
Redevelopment of the eight-city-block post office site could create the space and funding for a new built-from-scratch bikeway from the Broadway Bridge straight down into the Park Blocks, across Burnside past Director Park, and into the city's biggest cultural district and Portland State University.