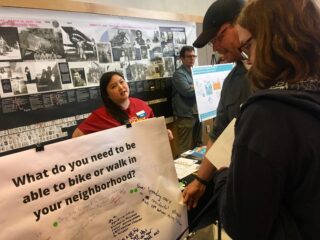 Scott Dalton's wife was walking home from Safeway in December 2017 when a person driving a car struck and killed her.
"She was in the crosswalk," he says. "One car stopped and the other car didn't."
Dalton, a retired journalist, has lived in east Portland near 117th Avenue, for twenty years. In that time he's seen a steady stream of people die while walking or biking. This year alone, five people have been killed while walking in the neighborhoods east of I-205.
Dalton showed up at the Portland Bureau of Transportation's open house Wednesday night hopeful that a slate of new projects will finally bring change to the neighborhood. In the past four years, PBOT has pumped $255 million into its "East Portland in Motion" projects, many of which will break ground in early 2019.