Posted by Jonathan Maus (Publisher/Editor) on October 26th, 2016 at 5:03 pm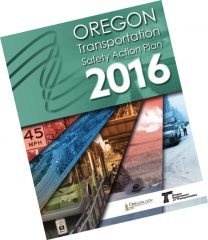 About 400 people have died every year on Oregon roads for each of the past 20 years. Now a new plan adopted by the Oregon Transportation Commission on October 15th says the state has 20 years to bring that number down to zero.
Facing a second consecutive year of a double-digit increase in road fatalities, the the 177-page Transportation Safety Action Plan lays out a path to tackle the problem.
It's the fourth Transportation Safety Action Plan adopted by Oregon since 1995. The previous plan was adopted in 2011. Beyond a useful roadmap to safer streets for policymakers and citizens, the plan also fulfills a requirement of the Federal Highway Administration. If Oregon wants to tap into federal safety funds, they must have a plan like this on file.
But it'd be a shame if the plan got stuffed into a file to just gather dust because the data and directives in the plan are essential knowledge.
For instance, the more than 230,000 traffic crashes that happened in Oregon between 2009 and 2013 had a total societal cost of $15.6 billion — about $785 per year for every Oregon resident. In that same time period 1,675 people were killed and over 7,000 people were seriously injured using our roads.
[more…]