Posted by Jonathan Maus (Publisher/Editor) on September 18th, 2014 at 4:14 pm
Learn about the natural areas that border the Springwater Trail on Sunday's Johnson Creek Days ride.
(Photo: J Maus/BikePortland)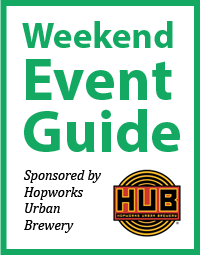 Welcome to your menu of weekend rides and events, lovingly brought to you by our friends at Hopworks Urban Brewery.
Last night I rode through a patch of fallen leaves. And I'm sure you felt that wet stuff falling from the sky this morning… What's going on? Yes, the season is changing; but your choices for having fun on bikes is as strong as ever.
From educational forays on our region's best bicycle routes to a simple, yet powerful, way to entice you to try riding into work the first time, this weekend has a lot to offer.
Friday, September 19th
[more...]