Posted by Michael Andersen (News Editor) on March 12th, 2014 at 10:09 am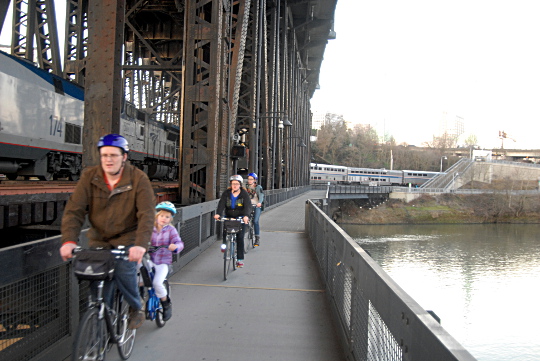 Portland now has several bike rental and tour shops downtown, offering both city and road bikes.
(Photos by M.Andersen and J.Maus/BikePortland)
Tourism to Portland is soaring. But one type of business whose fortunes used to move in lock-step with the stream of local visitors isn't doing so any more: car rentals.
Even as Portland has become a more popular destination for travelers, county tax records show, spending at local auto rental services has dropped.
Aggregate revenue at Multnomah County's hotels and motels is up 26 percent since 2001, after adjusting for inflation. Real car rental revenue, meanwhile, has fallen 13 percent.
[more...]