This story is by BikePortland contributor Caleb Diehl.
The City of Portland's Northwest in Motion plan got underway last night when the Community Advisory Group (CAG) met for the first time at Legacy Good Samaritan Hospital. The group — that includes representatives from biking and walking organizations, residents and business owners — will shape the outcomes of a project that will identify and prioritize a five-year "active transportation implementation strategy."

A top priority will be fixing the district's urban greenways. Which it turns out, aren't all that green.
"The northwest greenways are some of the worst performing in the city," said Zef Wagner, a PBOT planner leading the meeting. "A lot of the greenways have far too high traffic volumes, but Northwest is particularly bad."
Urban greenways (like their neighborhood greenway cousins) are low-traffic, low-speed streets that prioritize people biking and walking. None of the northwest district greenways met the city's standards in a recent review.
"We know it's growing very fast. If all those people drive their car to and from work we know what will happen."
— Zef Wagner, PBOT
Those streets will need serious upgrading. Wagner says, "just a stop sign isn't enough." That means more diverters, bike lanes and maybe even tweaking the direction of streets. Not everyone is going to like the changes — to put it mildly.
"That's going to be really challenging," Wagner said. "Right now people are used to Northwest having a perfect grid."
Similar to the City's other "In Motion" efforts like Central City In Motion, Southwest in Motion, and East Portland In Motion, Committee members will prioritize a list of bike and walk projects for the district. Being a kickoff meeting, this session didn't go into much detail about those projects. But it did shed light on broad goals and key problems the committee will have to tackle.
The overarching goal is getting people out of cars and onto bikes, transit, and their own two feet.
75 percent of Northwest commuters drive to work. But 37 percent of auto trips in Northwest are under three miles.
Northwest has great potential for biking, but quite a bit of room for growth. The district's share of bike commuters (6 percent) nearly matches that of the city as a whole. Northwest also has the highest concentration of Biketown stations. But Wagner said bike share for commuting hasn't quite caught on among northwest residents.
The area presents a number of biking challenges, although the city has yet to do a deep dive analysis into the causes. Residents have some guesses. The bike lane on 16th stops when 405 starts. Burnside is a major danger zone. Wagner says the biggest points of conflict come when bikeways cross major streets.
Kari Lorz, representing New Seasons Market on the committee, said her staff has been involved in several crashes while biking to work at the northwest location. "It's discouraging," she says, "and it scares other staff."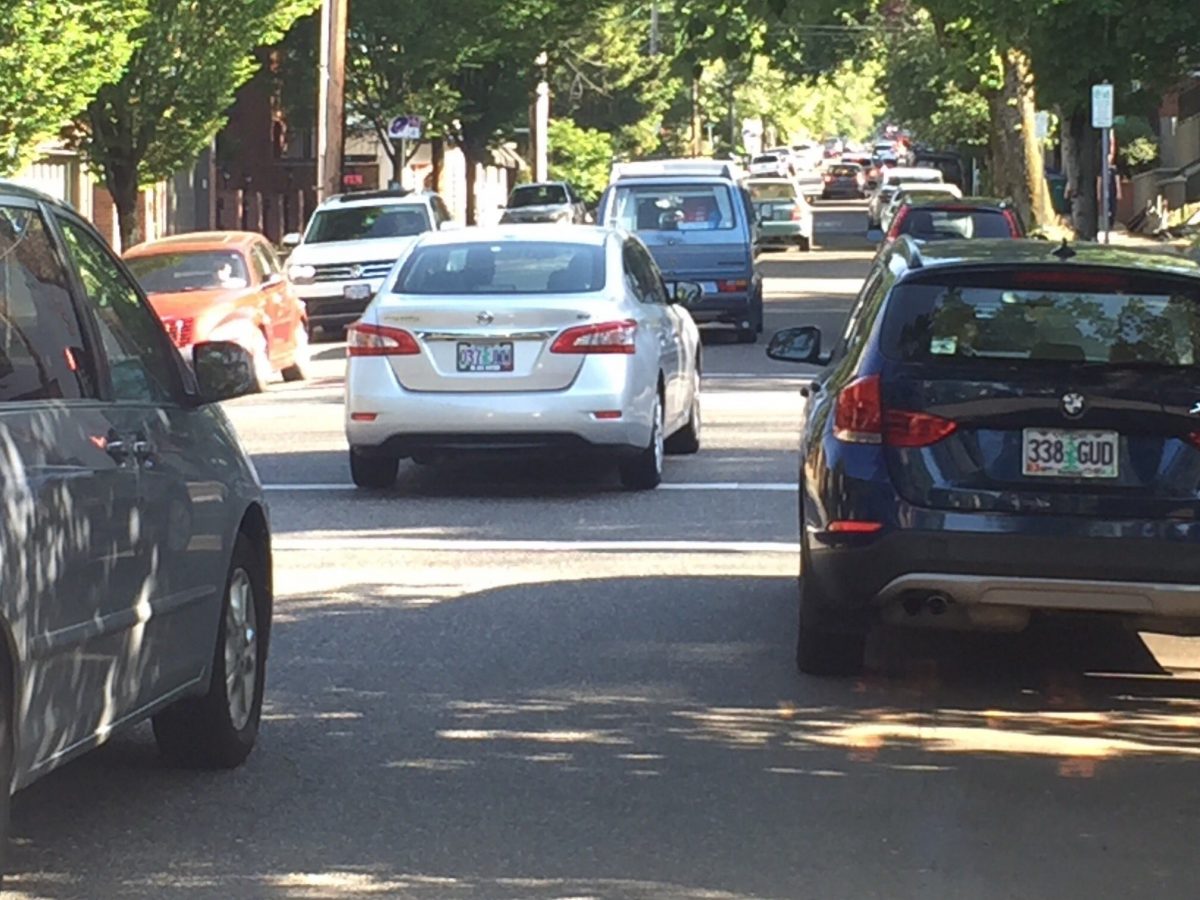 If it can overcome those challenges, the district has a high concentration of potential converts to bike commuting — that is, people who drive very short distances. Like commuters in the rest of the city, 75 percent of northwest commuters drive to work. But 37 percent of auto trips in Northwest are under three miles.
The Northwest in Motion plan will also beef up infrastructure needed for safe walking and rolling, though that's already working well. The district is home to an unusual concentration of power walkers. 6 percent of residents walk to work, compared to 3.6 percent for the rest of the city. That's not surprising, as Portland's big employers are largely clustered in northwest and downtown.
"I'm embarrassed to see those figures for transit."
— Phil Selinger, resident
With biking rates about average and walking numbers above average, the big area for northwest to focus on (besides the greenways) is transit. 14 percent of Northwest residents take transit compared to 17 percent citywide. Because connections are fewer and further between, Lorz said some of her staff take two or three buses to work.
"I'm embarrassed to see those figures for transit," said Phil Selinger, a northwest district resident on the committee who used to work for TriMet. "We need to do better with transit in the neighborhood."
Some members reminded the committee that transit is a critical connection for people who can't bike or walk. "A lot of people have bad knees or other disabilities and can't bike." Julie Gustafson, representing the Pearl District Business Association. "I want to make sure those people are heard."
As the committee meetings go on, expect some sparks to fly between businesses craving more parking and agency members and advocates who want to manage parking through pricing and incentivizing other modes. Lorz, the New Seasons rep, said a lack of parking is the number one complaint she hears from customers. Wagner instead pointed to city initiatives to raise parking fees and encourage alternative transportation.
And of course, no conversation about northwest Portland is complete without mentioning The Pearl.
The Pearl District neighborhood is known as a high-income area. But don't be mistaken in thinking these projects serve only the rich and powerful. The northwest district, taken as a whole, is more of a Tale of Two Cities sort of place. The luxury apartment dwellers renting $1,200 studio live near tenants of affordable housing projects. As we reported in April 2016, the Pearl District has about three times as many income-restricted units as the 82-acre New Columbia community in North Portland, Oregon's largest affordable-housing development.
"I think people are surprised when they find out there's a lot of affordable housing," said Jessica Pickul with JLA Public Involvement, a consulting firm hired to run the meetings. "There's a lot more to Northwest than a lot of people realize."
Parking meter revenue will be a major source of funding for Northwest in Motion. The other sources are somewhat up in the air. Some discretionary gas tax revenue should become available, and PBOT can apply for state and federal grants.
Revenue from development charges on the spate on new Pearl District apartments and offices could also be funneled back into the neighborhood. There's no set rule that says that'll happen, Wagner says, but it's typically the case that at least some development fees are reinvested in the neighborhood where they originated.
The project has high stakes. Portland as a whole is seeing explosive growth and congestion. A lot of that growth, and a lot of the congestion, is concentrated in the Northwest district.
"We know it's growing very fast," Wagner says. "If all those people drive their car to and from work we know what will happen."
For more coverage of northwest, browse our NW Portland Week coverage.
— Caleb Diehl, csdiehl16 [at] gmail.com
Never miss a story. Sign-up for the daily BP Headlines email.
BikePortland needs your support.