Monday, October 21st, 2013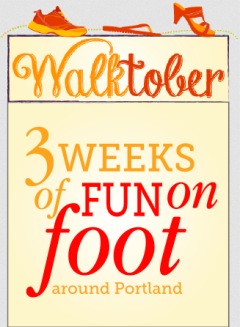 Have you heard about Walktober? It's "Three weeks of fun on foot" and it's in full swing right now. The event is organized by Oregon Walks and it was inspired by Shift's bike-centric Pedalpalooza that happens each summer. Similar to Pedalpalooza, the event consists of several individual events created and led by community groups and individuals who add them to a master calendar. Last week there was a walk on the Eastbank Esplanade led by the man who planned the project, George Hudson. There was also the Get Annoyed walk led by our very own Michael Andersen which featured problem solving and cake.
We've heard about two events this week that look interesting, so we wanted to share them with you...
Wonk Walk 2013: Crosswalk Crusade! - 5:15 pm TONIGHT (Meet on west side of SW 4th between Stark and Oak)
This walk will be led by Lancaster Engineering employees Kirk Paulsen and Brian Davis. Here's how they describe the event: (more...)