Tuesday, September 20th, 2011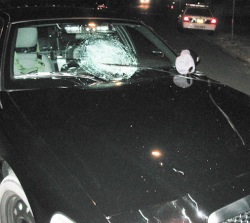 Damage to a Sheriff's patrol car after it
was involved in a collision with another vehicle.
(Photos: Washington County Sheriff's Office)
A collision in Aloha (about 11 miles west of downtown Portland) last night led to minor injuries and the arrest for 44-year-old Christopher Shostak. Shostak was operating his bicycle on a residential street when he became involved in a collision with a patrol car operated by a Washington County Sheriff's Deputy.
According to the Sheriff's Office, Shostak was bicycling eastbound on SW Blanton Road at 7:49 pm (about 30 minutes after sunset). The patrol car was headed in the opposite direction and then turned left into SW Pinewood Place. Here's what the official police statement (titled, "Bicyclist Arrested After Crashing Into Patrol Car") says happened next:
"It was reported that as the Sheriff's Deputy was turning onto SW Pinewood Place, the bicyclist ran into the front of the patrol car."