Portland Police Bureau Chief Mike Reese on SW 2nd Ave and Ankeny this morning.
(Photos J. Maus/BikePortland)
Portland Police Bureau Chief Mike Reese is on bike patrol today.
I follow @chiefreese on Twitter and this morning he mentioned he was out with bike officers today. Then, after a few readers texted me his whereabouts (thanks Ryan and Dee!), I rolled out to track him down. I ended up meeting him and Officer Todd Engstrom near the corner of SW 2nd and Burnside.
The duo was checking on an illegally parked car as I rolled up. Not wanting to interrupt them (and knowing my visit was completely unscheduled), I waited for a chance to chat.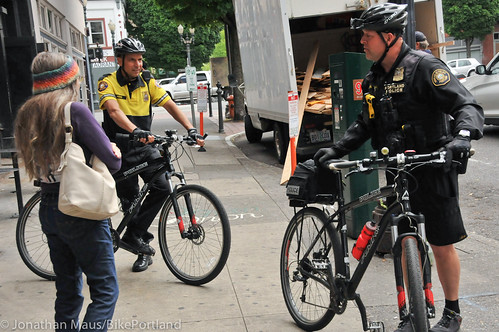 Chief Reese and Officer Todd Engstrom chat with a downtown resident.
A closer look at the bike: a disc-brake equipped Fuji mtb with slick tires.
Given that he competes in triathlons, I knew Chief Reese was no stranger to cycling; but I never knew he was certified for bike patrol. He told me this morning he's maintained his official certification since 1990. The Chief does one shift a month and this month he chose to ride with Ofc. Engstrom on a "PPI" shift (Portland Patrol Inc., a private security company that partners with the PPB downtown).
While the PPB has nearly 1,000 officers only eight are on regular bike patrol (dozens more have access to bicycles for use during large marches and protests, as we saw during the Occupy Portland events of 2011). There are currently six officers on downtown bike patrol and two assigned to SE Hawthorne Blvd.
Chief Reese is an advocate of bike patrol. "For downtown," he shared with me this morning, "It's one of the best ways to address neighborhood livability issues. Both [foot patrol and bike patrol] are a lot more effective way to engage with people and to have a conversation — just like we're having right now."
Unfortunately, Reese said that due to budget and operational issues, he doesn't think we'll be seeing more cops on bikes any time soon. "We're so lean as an agency, it's difficult to envision more officers on bikes," he said.
According to Reese, the primary reason the bureau doesn't use more bike officers is their inability to respond to 911 calls. When an emergency call comes in, every officer on a bike means there's one less officer available to respond. "We've got to carve resources from our patrol branch to do this work, and that's hard to do."
Officer Todd Engstrom is the self-described "point-man" of the PPB's bike patrol unit. He's the main bike instructor for other officers and the PPB recently paid for him to complete the comprehensive, two-week mechanic certification course at United Bicycle Institute ("I got to build a wheel," he shared this morning, "that was pretty cool!").
Officer Todd Engstrom.
Engstrom said most of his job is dealing with low-level livability issues. "We're just trying to keep downtown clean," he said. He also has regular run-ins with bike thieves. He knows several who are prolific and each time he sees them he asks about their bikes and runs them through his police radio to see if they're stolen. "There's one guy who I see a lot," he said, "He probably steals 2-3 bikes a day. He can cut them with bolt cutters in a few seconds and then he sells them for $20-30 bucks… and that's his heroin fix for the day."
Engstrom is also a big believer in bike patrol, but sees two disadvantages over patrol cars. First, he doesn't have access to a computer to easily and quickly run the names of suspects. And second, he can't transport arrestees. When he does make an arrest he has to interrupt another officer with a patrol car to take the person to the justice center for processing (I ran into Portland Pedicabs owner Ryan Hashagen this morning who said he's had discussion with the PPB about the potential of using a pedicab for this in the future).
"I put my body [person he has arrested] into the patrol car and then ride over to the justice center… And I usually beat them there," he said with a smile.