Friday, September 5th, 2014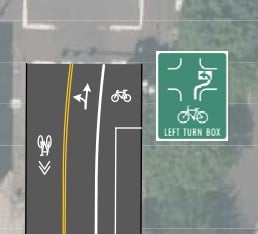 Detail of PBOT's plans.
The Bureau of Transportation is eyeing NE 7th Avenue between Weidler and Schuyler for its latest street re-design project aimed specifically at improving conditions for cycling.
Northbound on 7th, the project will add a six-foot wide bike lane and a bike box between Weidler and Broadway, then a bike lane and sharrows between Broadway and Schuyler. In the southbound direction, the project will a mix of bike-only lanes and shared lanes with sharrow markings between Schuyler and Weidler. Also in the plans are a bike box on Broadway to facilitate two-stage left turns from 7th onto Broadway.
Here's PBOT's latest project concept drawing:
(more…)