The future for walking and rolling between the Central Eastside and the Lloyd District looks much brighter.

Yesterday the Portland Bureau of Transportation announced that they've chosen a 7th to 7th alignment for the carfree Sullivan's Crossing Bridge.
The decision comes after over two years of analysis, studies, and community feedback that was solidified at an open house on December 5th where PBOT says they received "overwhelming support for the 7th to 7th alignment."
Because of existing cycling connections through the Lloyd District, 7th was always the preferred option on the north side of I-84. On the south side PBOT was considering 7th, 8th, and 9th. 9th was cut early on in the process because it would have required the demolition of private property. A bridge from 7th to 8th would have been 130 feet shorter and less expensive to build; but it wasn't as good of a fit with the cycling network to the south and other spatial constraints for where the bridge would have landed.
The news is being widely hailed by local bicycle insiders and activists. Because cycling access was ignored when Portland Streetcar was put on Martin Luther King Jr Blvd and Grand Avenue to the west, and conditions on the NE 12th overcrossing are far from adequate, it's extremely difficult for bicycle users to connect between the growing Central Eastside, the Lloyd District and northeast Portland neighborhoods.
7th Avenue is poised to become a major cycling corridor in the future and this crossing will provide much-needed momentum to make it happen. There's already space set-aside for a protected bikeway on 7th through the Lloyd District (which connects to the protected bikeway on NE Multnomah and the neighborhood greenway at Tillamook) and the street is on the future alignment of the Green Loop. Also in the mix is how the new carfree bridge and associated bikeway upgrades could help boost momentum for building the first piece of the long-awaited Sullivan's Gulch path along I-84.
As you can see in the graphics below (which were shown at the recent open house) PBOT assumes the future presence of a Sullivan's Gulch path:
And since the presence of a major cycling bridge is imminent, there's already talk about building a two-way protected cycle path adjacent to Lloyd Blvd between Grand and 9th to help people access it:
Check out this graphic shared at the recent open house that shows before and after conditions of the south landing of the new bridge:
A major part of this project will be the redesign of the 7th and Lloyd intersection at the bridge's northern landing. As we reported one year ago, there was lots of excitement around PBOT's initial plan for a roundabout or protected intersection. However now it appears those designs aren't being considered and instead they're looking at an upgraded, but more traditional intersection design (as seen above).
According to PBOT's evaluation, the roundabout didn't move forward in part because it was more expensive and it allegedly wouldn't handle the projected level of automobile use in 2035: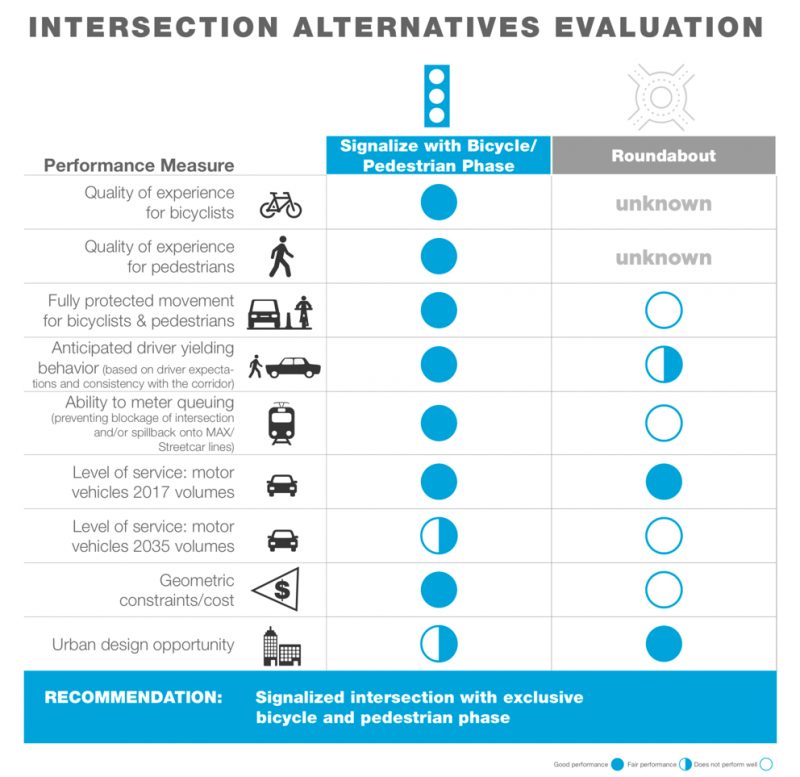 The design of the bridge itself remains to be determined, but PBOT already knows it will have a 5 percent slope (downhill from north to south) and will have 24-feet of usable deck for walking and rolling. With the alignment decision made, PBOT is now able to vet bridge types at a deeper level.
Here's one of the potential bridge designs known as "Skip":
Suffice it to say this bridge will be an absolute game changer and it can't happen soon enough. PBOT says the bridge will cost between $9 and $13 million (funded mostly by System Development Charges, fees paid by developers) and construction will begin in 2019.
Check out the official project page here.
— Jonathan Maus: (503) 706-8804, @jonathan_maus on Twitter and jonathan@bikeportland.org
Never miss a story. Sign-up for the daily BP Headlines email.
BikePortland needs your support.
If you have questions or feedback about this site or my work, feel free to contact me at @jonathan_maus on Twitter, via email at maus.jonathan@gmail.com, or phone/text at 503-706-8804. Also, if you read and appreciate this site, please become a supporter.