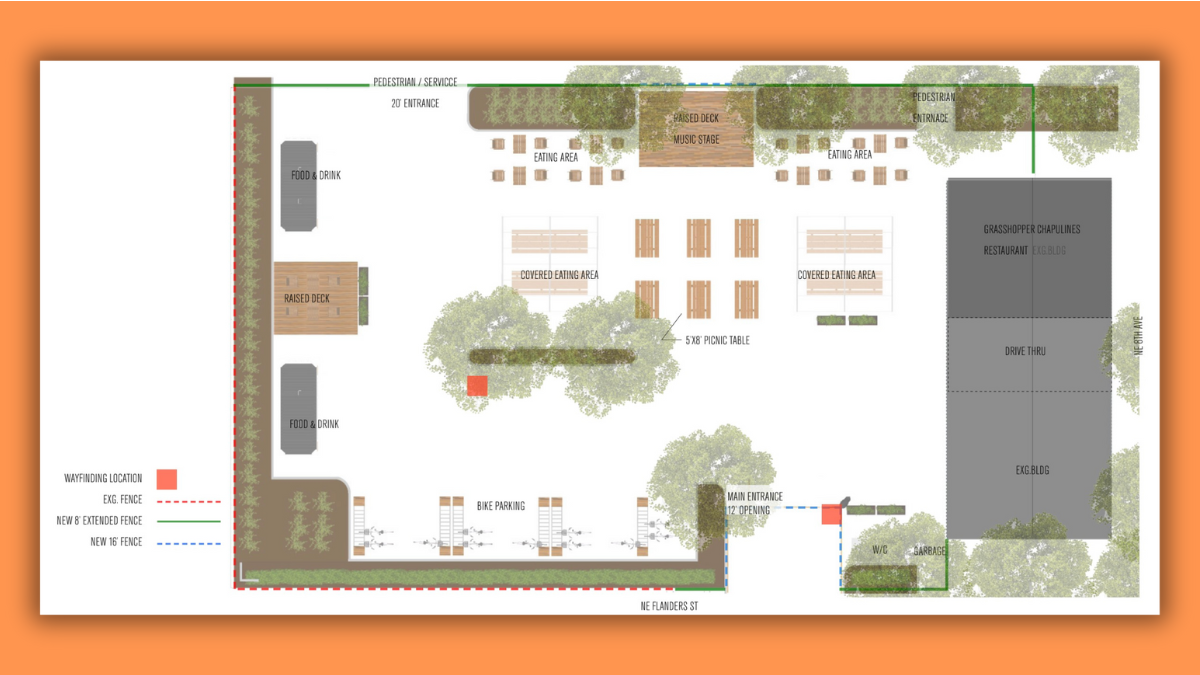 A new public space on the south end of the Blumenauer Bridge is set to debut in the coming weeks. 'Bear Blocks' is a collaboration between the owner of a paved lot adjacent to the southeast landing of the bridge, a nearby event management company, and a nonprofit.
According to Friends of Green Loop Executive Director Keith Jones, his organization will manage the project in partnership with TwentyFour7, a brand marketing firm located nearby on NE 9th Avenue. TwentyFour7 will be the programming partner and will do the construction build-out. Friends of Green Loop will lease the space from property owner, TBH LLC.
Jones says it's all part of an effort to increase activation of public spaces in the Lloyd and along the Green Loop — the City of Portland's six-mile linear park project that is still in its infancy. "We wanted to do something other than a food cart pod," Jones shared with BikePortland Thursday. Jones — who gives credit to local bike advocate, business owner, and former leader of nonprofit BikeLoud PDX, Kiel Johnson, for getting the idea off the ground — sees a lot of potential for the space.
And Jones isn't the only one excited about this project: He has already won a $16,500 community livability grant from Prosper Portland to make it happen.
The idea is to have outdoor seating, rotating food and drink vendors, two performance stages, new signage on the bridge, and of course, lots of bike parking. PBOT counts show about 700-1,000 people cross the Blumenauer Bridge per day — that's an impressive number (about half the weekday total on the Hawthorne) that gives Jones and other project partners lots of optimism that this space can become a biker hangout.
"We see this as a perfect landing spot for cyclists," Jones said.
And Kiel Johnson shared with BikePortland this morning that, "It is an amazing location that should be an important rallying point for Portland bicycling culture."
Another idea from TwentyFour7 is to build a bike-thru window where you'll be able to swing in and grab a breakfast burrito and coffee as you ride across town to work or that morning meeting. Or heck, it's a cool enough spot to be a ride destination!
Jones attended a private party at the space earlier this year and said, "It's beautiful. You've got the bridge lit up and you can see the entire city. And it's surprisingly quiet and with the music going, it's amazing."
And if done right, the spot could also lure the thousands of convention-goers that stay in hotels in the Lloyd just across Sullivan's Gulch. Right now, many Portland visitors stay in the Lloyd along the busy MLK/Grand couplet — an area that isn't all that memorable. But if all goes according to plan, they'll hop on bikes and roll over to Bear Blocks for a true Portland experience closer to their rooms and easier to access than downtown. Jones says he wants local bike advocacy nonprofit BikeLoud PDX to have a permanent presence at the site.
The northern section of the lot is used as employee car parking for local businesses during the week, but on weekends it will be open for use as a market space. Jones already has plans for a holiday market in December.
This is the second example of bike-oriented development (BOD) we've heard about since the Blumenauer Bridge opened in July 2022. Earlier this year a bike shop opened nearby and its owner said he feels the new bridge is a "major draw" for his customers.
The build-out of Bear Blocks is imminent and Jones hopes to have it wrapped up in the coming weeks. Stay tuned for announcement of a grand opening party for the bike community. Maybe we'll help kick off with a group ride from Bike Happy Hour!