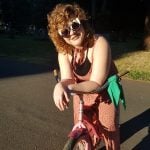 by Maritza Arango (Events Editor) on July 14th, 2021 at 1:00 am
"The Portland Bureau of Transportation (PBOT) will be holding a virtual joint meeting of the city's Bicycle and Pedestrian Advisory Committees on Tuesday, July 13th from 6-8:30 pm via Zoom. Please see below for details and instructions on how to join.
Register in advance for this webinar:
https://zoom.us/webinar/register/WN_UKwDE3RpSRqPgfYDg9AVHg
After registering, you will receive a confirmation email containing information about joining the webinar.
Introductions / Announcements (6:00-6:15)
Public Comment (6:15-6:25)
Discussion with PBOT Director Chris Warner (6:25-7:15)
Chris Warner joined PBOT as Assistant Director in the fall of 2016. He was appointed Director in June 2019. Under his leadership PBOTR is dedicated to efficiently managing and maintaining the city's transportation system, achieving the Vision Zero goal of eliminating traffic fatalities and enhancing the city's high quality of life. Warner has a rich history in transportation, having served as Governor Ted Kulongoski's senior transportation policy advisory and as Chief of Staff to former City Transportation Commissioner Steve Novick.
122nd Avenue Plan (7:15-8:00)
PBOT is currently developing a plan for 122nd Avenue to increase safety for all users of the right of way, improve walking and bicycling access, and support better transit. The plan will recommend phased improvements to: eliminate serious injuries and fatalities and remove 122nd Avenue from the Vision Zero High Crash Corridor Network; enhance multimodal travel options and comfort along and across the street; and support the transformation of the street into a Civic Corridor. It will also establish an implementation framework. PBOT staff will discuss the broad outlines of the planning effort, share proposed recommendations and seek feedback from the committee members.
Earthquake Ready Burnside Bridge Proposed Cost Saving Measures (8:00-8:30)
Multnomah County's elected leaders have asked the EQRB project team to identify ways to reduce the overall project cost. The County has currently identified only about one-third of needed funds to build the recommended Preferred Alternative. The project team will discuss their initial cost-savings proposals and seek feedback from the committee members.
Adjourn (8:30)"