by Michael Andersen (Contributor) on April 28th, 2016 at 12:56 pm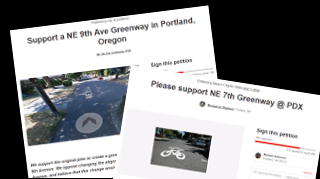 The debate over the best route for a future NE 7th/9th neighborhood greenway is, for the moment, largely about appearances. But in this week's battle for appearances, backers of a 7th Avenue route are definitely winning.
As we mentioned in Monday's coverage of this issue, an anonymous supporter of a 9th Avenue route launched a petition on Sunday in which he or she suggested that a 7th Avenue route would send traffic spilling onto other small residential streets. As of this writing, it's got 50 signatures.
Yesterday morning, resident Montse Shepherd started a competing petition in favor of a 7th Avenue route, itemizing 16 reasons for that route. 26 hours later, it's drawn 368 signatures.