NE 7th Avenue is technically a local street, but it's become heavily used by cars as an alternative to MLK.
(Photo: M.Andersen/BikePortland)
Advocates for turning NE 7th Avenue into a low-stress neighborhood greenway scored a significant victory this month, but opponents of that change are pushing back.
The Portland Planning and Sustainability Commission voted April 12 to shift the official designation of "major city bikeway" from 9th Avenue to 7th Avenue. That change that would line up with the possible 7th Avenue biking-walking bridge across Interstate 84. The 7th Avenue route would also save the city an estimated $1 million compared to 9th.
The downside is that making 7th Avenue comfortable to bike on, the way NE Going Street or SE Clinton Street are today, would probably require multiple traffic diverters on 7th. This would probably divert 7th Avenue auto traffic one block west to NE Martin Luther King Boulevard and, to a lesser extent, eight blocks east to 15th Avenue.
The streets between 7th and 15th wouldn't be expected to see as much additional traffic because Irving Park and other irregularities break the street grid, and heavy east-west traffic on Fremont makes it difficult to cross in rush hour between 11th and 14th without lights or stop signs.
As we reported last month, neighborhood association officials and some other residents are strongly in favor of a 7th Avenue neighborhood greenway, in part because of the improved north-south biking connectivity and in part because 7th Avenue, officially designated to serve as a local street that gets traffic in the 1,000 to 3,000 range, currently carries something like 5,500 cars a day — including 400 northbound during the evening rush hour.
"My son is three," said Nick Fox, a resident who said he drives regularly on 7th but would happily accept a diverter there for the sake of safety. "I've had people yell the F word at him. I've had people slam on their brakes as he crosses 7th. So he ended up stopping riding his bike for a while."
Not all residents agree, though — in many cases, it seems, because they think the cars diverted from 7th would find ways to spill onto other streets despite the fractured grid.
"Closing NE 7th to traffic using diverters is irresponsible in this growing neighborhood," wrote Estee Sigal on an online petition launched this week to oppose diverters on 7th Avenue and support a 9th Avenue route instead. "It will undoubtedly affect neighboring streets with increased traffic."
Then there are the thousands of people who drive on 7th Avenue today — and also the unknown number of people who would choose to bike on 7th if it were improved for biking. Neither group is presumably aware of the possible changes.
Despite political challenges, 7th would be cheaper to build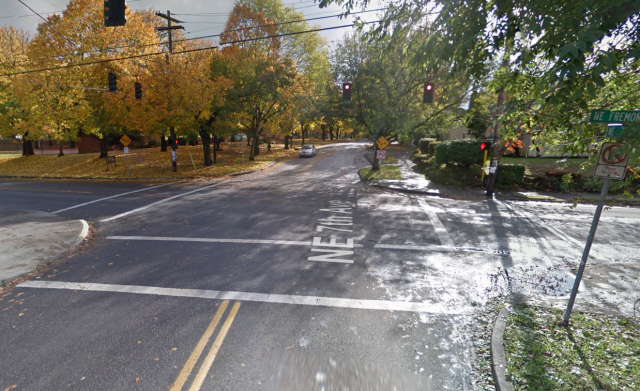 A "NE 7th/9th" neighborhood greenway is on the project list for safety improvements funded by the gas tax that arrives on Portlanders' ballots this week. But the exact route is yet to be determined.
In favor of 9th Avenue is the direct connection to Irving Park and the fact that the park already functions as a natural diverter. But that route would require better pavement on 9th near Broadway, a new path through the park and new traffic signals or beacons to help cross Knott, Fremont, Prescott and Alberta.
7th Avenue is a straight north-south shot from Broadway to Sumner. It already has a four-way stop at Knott and signals at Fremont, Prescott and Alberta.
As of last month, the city's rough project cost would be $1 million for a 7th Avenue greenway or $2 million for a greenway on 9th.
Another issue is that 7th Avenue is somewhat flatter:

than 9th:
Public testimony being accepted
Under the plan approved this month by the Planning and Sustainability Commission, the "major city bikeway" route on 7th heading north from the Lloyd District would jog at Sumner Street to 9th Avenue. It would then run north on 9th to connect to the existing east-west neighborhood greenway on Holman Street.
The PSC vote came despite a recommendation by city staff to retain 9th Avenue as the "major city bikeway" and designate 7th merely as a "city bikeway." City spokesman Dylan Rivera said last week that the city had received "dozens" of comments on the subject, some in favor of 7th and some of 9th. Rivera didn't fill requests to share the public input that supported 9th over 7th.
The Planning and Sustainability Commission's April 12 vote is nonbinding on City Council, which will vote on this proposal among many others later this year as part of the city's transportation system plan. (This won't be part of the council vote on the citywide comprehensive plan, which will happen much sooner.)
Whatever happens at the city council, there's still a possibility that a neighborhood greenway could run along either route. This planning-level decision is significant mostly because it would lend more rhetorical weight to whichever route gets the "major city bikeway" designation. Actual route decisions are a year or two away at the soonest.
To register thoughts on this issue, email cputestimony@portlandoregon.gov.
Update 4/27: Supporters of a 7th Avenue greenway have launched an online petition of their own.
Correction 11:45 pm: An earlier version of this post incorrectly said testimony on the issue would only be accepted until Wednesday.
— Michael Andersen, (503) 333-7824 – michael@bikeportland.org
Our work is supported by subscribers. Please become one today.