(Author's note: This article is the second part in a three-part series from The Street Trust, the Portland-based nonprofit fighting to win $161 million for safe streets, transit operations, and clean air in the 2017 Oregon legislative session. See part one here)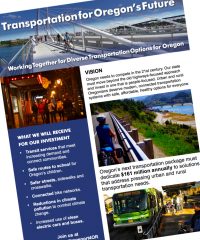 Oregon is in the best position to pass policy improvements and transportation funding in the 2017 legislative session, since the highway-heavy Jobs and Transportation Act of 2009. This is our chance to win $161 million in funding for safe streets.
The Street Trust is part of Transportation for Oregon, a coalition of progressive partners including Oregon Environmental Council, OPAL Environmental Justice Oregon, 1000 Friends of Oregon, Transportation for America, Better Eugene-Springfield Transit, the Oregon Conservation Network, as well as many others who are focused on winning the following key priorities in this session's forthcoming transportation package:
Goal: A new state and/or local revenue source for transit needs.
Currently, transit providers across the state are unable to keep up with increased ridership, the needs of youth, the needs of older adults, and the needs of people with disabilities. Oregon contributes proportionately much less funding to transit than most other states—only 3% of operations funding, compared with state contributions of over 24% nationally. We're asking the legislature to provide state funding to match and leverage local, regional and federal funds; to invest in more transit service (a lifeline in rural communities and key growth strategy in cities and suburbs).