Typical midday traffic approaching a curve in Barbur Boulevard from the south.
(Image:
Google Street View
.)
Four months after saying it had no plans to do so, the Oregon Department of Transportation will formally consider the possibility of new changes to a two-mile stretch of Barbur Bouelvard where six people have died in cars, on motorcycles and on foot in the last six years.
"The audit will consider a road diet as a potential safety tool in the corridor."
— ODOT
ODOT's announcement of the new analysis to be launched this summer by a team of multi-agency experts came Tuesday after years of pressure from some Southwest Portlanders and other safety advocates including the Bicycle Transportation Alliance.
"Many residents of House District 38 use Barbur every day to travel to and from home, work or school," said Rep. Ann Lininger in ODOT's news release Tuesday. Her district includes much of Southwest Portland on both sides of Barbur, Lake Oswego and other communities southeast of Barbur. "I am very pleased to see ODOT initiate the Road Safety Audit and further its commitment to improving safety for all users on this crucial roadway."
The stretch of road up for analysis runs 5.6 miles from Barbur's southern intersection with Capitol Highway to its junction with Naito Parkway.
Near the northern end of that line are two miles through a wooded section of Barbur, where the lack of signals or significant intersections means that a northbound passing lane could be removed without major loss of roadway capacity.
However, ODOT engineers said in an interview Tuesday that changes to the two-mile section between the signals at Southwest Miles and Southwest Hamilton might lead people to merge into the left lane further south, which could then reduce signal capacity at Terwilliger and Miles. They said they haven't yet done enough analysis to know how much delay that might add, though ODOT's analysis of last summer's construction on Barbur suggested that it might add about one minute during the morning rush hour on the busiest weekdays, Tuesday through Thursday.
"The audit will consider a road diet as a potential safety tool in the corridor," ODOT wrote in its news release Tuesday.
ODOT regional manager says any changes might come in next three years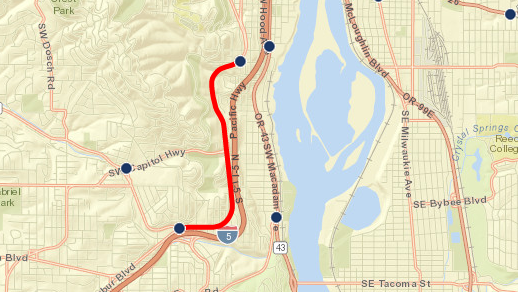 ODOT spokesman Don Hamilton said Tuesday that road safety audits follow a procedure spelled out by the federal government to get outside experts' eyes on a problem.
"It is not anybody from ODOT Region 1, but it could include people from cities or counties," Hamilton said. "The idea is that we bring in independent people, we show them what we got and they then do the study. At the end of it there is a findings meeting where they present a report to the owner. In this case, that's us, and we will then respond to that in some way."
Alongside ODOT's news release came a letter from ODOT Regional Manager Rian Windsheimer to Bicycle Transportation Alliance Advocacy Director Gerik Kransky, a response to the 721 signatures delivered to ODOT by the BTA last month.
"My goal is for the RSA [road safety audit] to identify improvements that will benefit all modes and help us prioritize where to spend our limited funds," Windsheimer wrote. "If the audit identifies opportunities we feel are a higher priority than the projects we currently have programmed in the 2015-2018 STIP [statewide transportation improvement program], we may want to consider revisions to the scope of those projects to include higher priority locations or elements."
"I think it's welcome news from ODOT that they're listening to the community conversation about safety on their roadways," Kransky said Tuesday. "I am eagerly awaiting an announcement regarding who will be participating."
The BTA, Oregon Walks, City Club of Portland, Lewis and Clark College, the Markham Neighborhood Association, Southwest Trails and a handful of local businesses have urged a study along these lines, including the possibility of restriping Barbur to remove a northbound passing lane and add continuous protected or buffered bike lanes and/or walking lanes across two narrow bridges on Barbur where the bike lanes disappear, forcing people on bikes and cars to merge into the same 45 mph lanes.
For people biking, it's by far the flattest connection between most of Southwest Portland and the rest of the city.
"We're cautiously optimistic, definitely welcoming the conversation and hoping that it leads us directly to protected bike lanes over the Newberry and Vermont bridges," Kransky said.
Neighborhood groups hopeful
Other advocates for the safety of driving, biking and walking on Barbur also voiced cautious support.
"I'm excited for a chance for the community to weigh in on Barbur, and I hope that people will get involved," said Kiel Johnson, an organizer for the local safety group, Friends of Barbur, that gathered 502 of the signatures delivered by the BTA. "I think it's a pretty easy case to make to reduce speeding and make it safe for all modes. … I just hope that it's transparent and anyone who wants to weigh in gets to weigh in."
Roger Averbeck, chair of Southwest Neighborhoods Inc.'s transportation committee and a prominent voice for safety changes to Barbur, said he was pleased that Windsheimer had invited him to participate.
"Those sorts of thing have been done before on urban corridors in Portland such as 82nd Avenue, Powell Boulevard," Averbeck said. "They are helpful."
Hamilton said the safety audit process, which takes place this summer, will involve multiple days of "people crawling all over this area" to observe road behavior and wed it to the state's trove of speed, safety and capacity data. "It involves real hands-on observation," he said.
Hamilton said the list of participants isn't fixed yet but that the audit will include "people from outside the region."
The news release mentioned "law enforcement, fire and rescue, neighborhood representatives, transit providers, bicyclists, pedestrians and ODOT" as stakeholders.
Hamilton said he didn't anticipate a formal public hearing as part of the process but that "there will be something" such as a live or online open house to gather more input from the public at large.
Michael Andersen was news editor of BikePortland.org from 2013 to 2016 and still pops up occasionally.