A bill that would establish an official State of Oregon Vision Zero Task Force got its first public hearing today. And it was heart-wrenching.
The eight members of the House Committee On Transportation Policy who presided over the hearing for House Bill 2667 probably didn't expect the 8:00 am start time to attract testimony from nearly two-dozen people. And they probably didn't expect to hear from people like Marina Hajek, the mother of a 10-year old boy who was hit and killed by a reckless, speeding driver while walking his bike across a street in Eugene 10 years ago.

"How many more deaths will it take? How many more memorials? How many more children have to die?"
— Marina Hajek, Eugene resident
As she spoke this morning, Hajek apologized for breaking into tears — something she still does when thinking of her son. "It's just that I have been in front of so many committees and I always think, 'Is this going to be the one that's going to be brave enough to finally confront the reality of our streets?'" she said, sobbing. "How many more deaths will it take? How many more memorials? How many more children have to die? How many more brothers and uncles?"
Hajek put a human face on a bill that comes up as Oregon lawmakers, bureaucrats, and advocates try to respond to a significant uptick in fatalities in the last two years. The issue is also personal for House Representative Rob Nosse, the chief sponsor of the bill. He opened this morning's testimony by recounting his memory of Portland teenager Fallon Smart, who died while trying to walk across a street just three blocks from his house. "It could easily have been one of my teenage children," he told fellow legislators.
And five members of Oregon and SW Washington Families for Safe Streets testified today. After sharing their stories, they left a copy of this with each legislator…
Nosse and a coalition of supporters led by The Street Trust (formerly the Bicycle Transportation Alliance) see HB 2677 as a key starting point to change the culture of safety at the state level. The Street Trust Policy Director Gerik Kranksy explained the need for the bill by saying a new approach is necessary. "Vision Zero focuses on preventing injuries. The vulnerabilities of the human body, not the collision itself, should drive the design of our transportation system," he testified. With 492 deaths on Oregon roads last year, Kransky added that, "What we're doing currently isn't enough. Vision Zero calls on us to do more."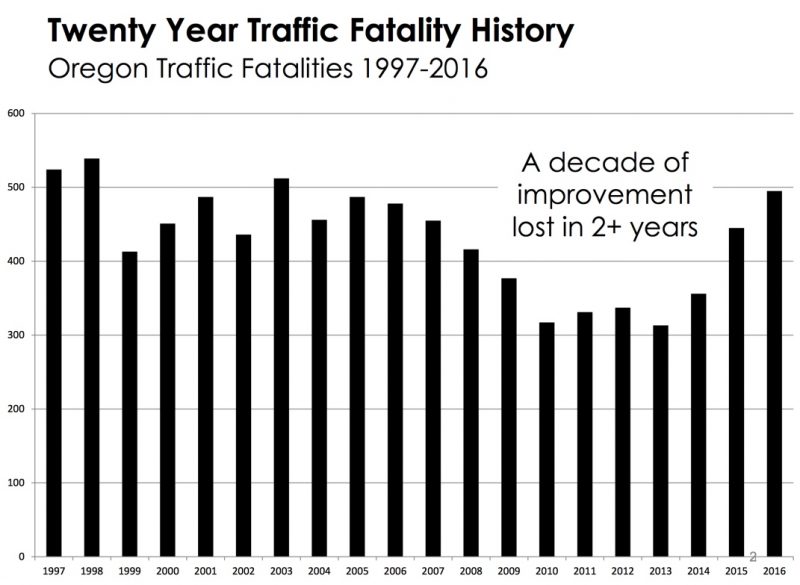 HB 2667 is supported by an impressive list of key interest groups including AARP Oregon, Oregon Walks, Springfield Public Schools, the League of Oregon Cities, the Association of Oregon Counties, the Oregon Environmental Council, Transportation for America, and many independent citizens — especially those who have lost loved ones like Ms. Hajek.
In a surprising development, the Transportation Development Division administrator for the Oregon Department of Transportation, Jerri Bohard, offered testimony that seemed to undercut HB 2667. She said the bill focuses only on people who walk and use bicycles. And, "While they are certainly vulnerable users of the system," Bohard said, "a safety plan must consider and encompass all users." (*Note: The text of the bill states, "The task force shall examine strategies to reduce and eliminate traffic crashes, particularly serious injury and fatal crashes and those involving bicycles and pedestrians.)
In addition to her claim that the bill doesn't focus on all road users, Bohard also put on the record that ODOT feels the work of a new Vision Zero Task Force could duplicate work recently completed through ODOT's 2016 Transportation Safety Action Plan. "The work of the task force," Bohard continued, "could also result in different safety investment priorities than those identified in the Oregon Transportation Safety Action Plan, since it does not consider all users of the system."
Bohard's concerns were echoed by other people who testified in support of the Vision Zero bill, most of whom said the two should not be seen as mutually exclusive and that perhaps there would be a way to merge the efforts.
"We're underrepresented in trips and overrepresented in deaths."
— Gerik Kransky, The Street Trust
Asked about Bohard's testimony, Kransky with The Street Trust said he's already met with the ODOT administrator and is aware of the concerns. "It was pretty clear they [ODOT] feel the Transportation Safety Action Plan is the primary and only vehicle for making these kind of policy recommendations." But Kransky sees the push for Vision Zero as vital on several levels. He thinks its approach will be broader in scope and could build more political support for the state's traffic safety goals. "That's where I hope we end up," he said. For Kransky, the biggest "game-changer" of the Vision Zero approach (compared to ODOT's approach) is "bringing fresh eyes and the public health perspective to the table." By having a representative from the Oregon Health Authority (as HB 2667 mandates), Kranksy says the new task force, "Could bring an epidemiological perspective to the human health crisis that exists."
As for Bohard's assertion that HB 2667 focuses too narrowly on just bikers and walkers, Kranksy said she's technically correct. The bill does specifically emphasize vulnerable road users, and that's the point. "If on average, 6.6 percent of Oregonians walk and bike to work, yet they represent 20 percent of serious injuries and fatalities — that disparity is alarming and call for some focus in our work. We're underrepresented in trips and overrepresented in deaths." (According to the latest ODOT statistics, 80 people died while biking or walking in 2016 (10 and 70 respectively) – or about 16 percent of the 495 total deaths.)
Today's hearing ended without a vote. It appears there will be more discussions and possibly amendments before it comes back for a second hearing. If it passes out of this committee it will also have to pass out of the Ways and Means Committee because there will be funding required to set up the task force (just how much isn't known at this point).
In the same hearing this morning, the committee members also had an informational presentation about traffic safety from ODOT Director Matt Garrett and Transportation Division Administrator Troy Costales. They focused solely on distracted driving and what Costales referred to as "belts, booze and speed" — the deadly combination of not wearing seatbelts, driving drunk, and driving too fast. The difference between ODOT's usual approach to blaming deaths and injuries on human error runs directly counter to the tenets of Vision Zero which put the onus on road design and policy. It will be interesting to see how these two approaches meet — or don't — in the coming weeks and months.
Marina Hajek, who became a member of the Vision Zero Task Force in Eugene after her son died, just wants the state to help. "We can't do it alone. We need your support."
— Jonathan Maus: (503) 706-8804, @jonathan_maus on Twitter and jonathan@bikeportland.org
BikePortland is supported by the community (that means you!). Please become a subscriber or make a donation today.