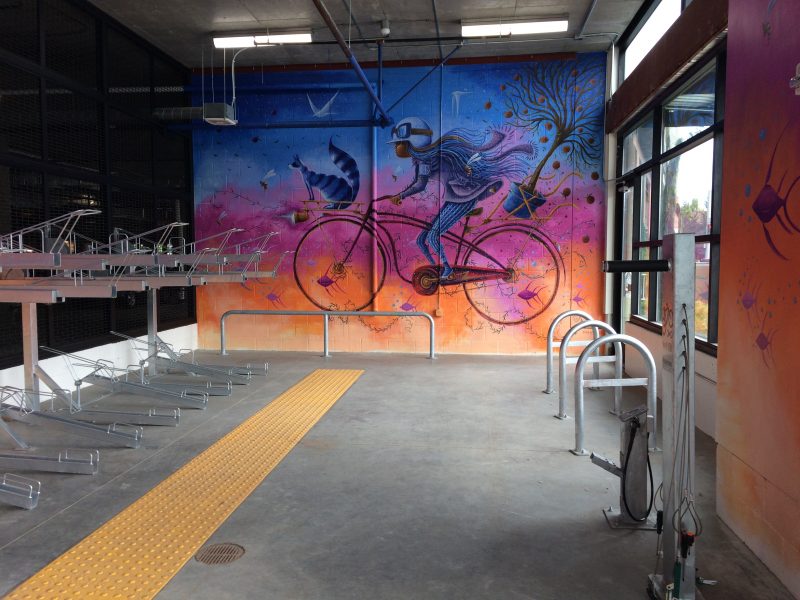 Publisher's note: We're trying something new. We've invited TriMet Senior Planner Jeff Owen to write a guest column (tentatively named "TriMet Corner" unless you have a better idea). Owen was hired by TriMet in 2012 as their active transportation planner and brings a ton of experience to the table. He also happens to be a very nice guy who's dedicated to his work in making our transit system work better for bicycle users. This is his first article for BikePortland.
——
This past June TriMet hired a local artist to breathe life and art into the interior of our new Orenco Station Bike & Ride facility.
TriMet's Bike & Rides offer an option for secure bike parking on one end of your commute. They eliminate the worry of bringing your bike on-board crowded trains or buses, only to find the spaces filled.
Now, thanks to the TriMet Public Art Program and a very talented local artist, the Orenco Bike & Ride really stands out from the crowd.

"My hope is that this mural catches the public's eye with its color and movement and inspires folks to hop on their bikes for their own sense of freedom and adventure."
— J. Shea, artist
Back in May TriMet commissioned local artist J. Shea to create a mural where natural light floods through the windows of 231st Avenue in Hillsboro. While the facility remained open and serving customers, the artist spent three weeks in June transforming the space. His project gives nod to the once prominent orchard sited here, as well as reflects the role that biking plays now and into the future in this community.
"My hope is that this mural catches the public's eye with its color and movement," J. Shea shared with us about his work. "And also inspires folks to hop on their bikes for their own sense of freedom and adventure."
J. Shea's mural captures the rich character of Hillsboro's Orenco neighborhood, says Valerie Otani, Hillsboro Public Art Supervisor. "From the recognition of its nursery heritage to the vitality of an urban hub of active transit users. We love seeing art infused in people's daily life, whether it is catching a glimpse of color at the intersection or getting on your bike and feeling your cares fall away."
Bike parking is not for everyone all the time, but because transit vehicles have spatial limitations and balance the competing needs of all transit users, secure bike parking remains an important focus for TriMet as we encourage people to combine bike trips with transit trips.
While the mural project was underway, Patrick, a regular bike commuter, shared thoughts about his commute. Unfortunately, his bike was stolen about two years ago from an outdoor rack.
"This new facility at Orenco is really what got me thinking about doing the bike and ride commute again," Patrick said. "Because of my experience [getting my bike stolen], I didn't want to just lock my bike outside. I have been using the Bike & Ride every day for almost two months and absolutely love it! It's a great way to get the blood flowing first thing and a nice way to wind down in the afternoon."
Patrick has a 10-minute bike ride from his home to the Orenco MAX Station, locks his bike inside the Bike & Ride, then catches the train into downtown Portland. "Riding MAX is another way that I have been able to redeem my time," he added. "With four kids I don't get a lot of time to myself, but my daily commute allows me to work on projects I have, write, read, or just relax a bit, and I love it!"
Inside the new Bike & Ride, TriMet supplied bike racks, a repair stand, secure doors, and signage — all paid for with grant funding. The Orenco Bike & Ride is just part of much larger redevelopment efforts occurring around the Orenco MAX Station, which has become a transit-oriented community with a town center, walkable streets, shops, condominiums, row houses and more.
Please join us for a celebration event at the Orenco MAX Bike & Ride on Wednesday, August 16, from 4:30 to 6:30 p.m. Come by for a close look at the mural, meet artist J. Shea and some of the mural selection panel members, and learn more about our Bike & Ride program.
The Orenco Bike & Ride is located at the Orenco MAX Station, facing NW 231st Avenue, accessible by MAX Blue Line, Line 47-Baseline/Evergreen and Line 48-Cornell. Hope to see you there!
Have ideas on improving access to transit by bike? Send them to bikes@trimet.org, contact TriMet Customer Service or add your thoughts to the comments below.
— Jeff Owen, TriMet.org and @jeffreysowen on Twitter
Never miss a story. Sign-up for the daily BP Headlines email.
BikePortland needs your support.