Friday, July 25th, 2014
The new owner of the Paramount Apartments on N Flint and Broadway built a new indoor bike parking area and charges tenants $6 a month to use it.
(Photo J. Maus/BikePortland)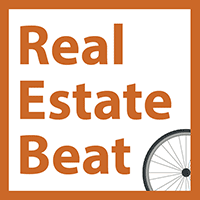 Here's a question for those who say it's only fair for car parking to cover its own costs: Should bike parking ever do the same?
Whichever way you come down on the question, the new landlord of an inner North Portland apartment building is putting it to the test. He spent $2,000 to add 40 indoor bike parking spaces, a bench and a repair clamp to an unused shop room and is now charging tenants $6 a month per bike to use it.
"Just trying to recoup some of my labor and expense," the landlord, Roy Eberle of Eugene, explained in a phone interview Thursday.