Wednesday, July 8th, 2015
The Lloyd, waiting to be born. City of Portland Archives: A2012-005, April 24, 1964.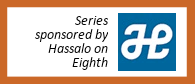 This is the first in a three-part series made possible by Hassalo on Eighth.
At first glance, the changes sweeping across the Lloyd District right now look like a story Portland has told at least twice before.
Developer makes big bet on underused land near downtown. Residential towers shoot up. Amenities multiply. Streetcar whistles through. Bikes roll in by the hundreds and eventually the thousands.
(more…)