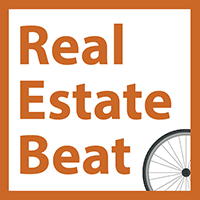 Generally speaking, Portland does bike parking better than any city in North America. And one of the continent's biggest bike parking projects is about to open in the middle of it.
The Lloyd Cycle Station, which opens to the public next month in the basement of the Lloyd 700 Building at 700 NE Multnomah Street, will offer half of the record-breaking 1,200 indoor bike parking spaces constructed as part of Hassalo on Eighth in the Lloyd District. But unlike most residential bike parking projects, this facility will also be open to people who work or shop in the area.
The 24-hour facility will offer service from on-site mechanics, paid lockers, showers, a bike-repair stand, extra-large cargo bike parking, a bike wash and free "commute consultations."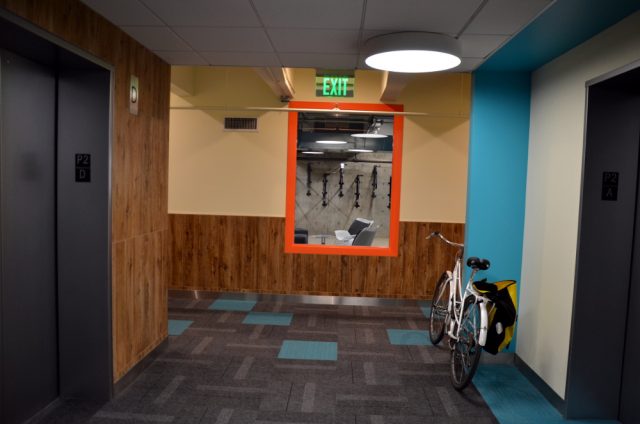 Full memberships will cost $50 a month or $419 a year. For business tenants of the Lloyd 700, it'll be $35 a month, $320 per year.
You don't have to buy a full membership, though. Simply parking your bike in the Cycle Station will cost $119 a year for nontenants of the 700 Building, $20 a year for tenants; or if you just want shower access without bike parking, that's $200 a year. Here's the full fee schedule:
This means that for residents of Hassalo on Eighth, a basic bike parking membership at the Cycle Station ($15/month) will be cheaper than bike parking inside the Hassalo on Eighth residential buildings ($25/month). That's great news for Hassalo residents — it'll prompt occasional bike users to stash their rides in the Cycle Station and keep the highest-convenience rooms open for people who ride daily.
"We've actually had a lot of people call to sign up, because they have many bikes," said Kathryn Doherty-Chapman of Go Lloyd, the local business association that has partnered with Hassalo on Eighth to administer the Cycle Station.
So if you become a member, how will you reach the facility in the top floor of the three-level underground garage? There are two options.
"I recommend people use the plaza elevator," said Doherty-Chapman. "It's just an elevator built for people, but it easily fits a cargo bike or a longtail bike."
The plaza elevator opens directly into the car-free plaza on Hassalo Street, opening onto 7th Avenue.
The other way is to use the elevator inside the 700 building, but it's closed to the public after 6 p.m. and more heavily used in any case.
There's also another way to use the Cycle Station even if you're not a member: starting some time after the opening day in June, the 700 Building will offer a free short-term bike valet during business hours.
"If you're here for an appointment or you're running into Green Zebra, then you'll just roll up," Doherty-Chapman said.
The valet, operated by Ace Parking, will only be available during business hours. But it'll be free to anyone who wants to use it.
Go Lloyd is hosting a grand opening celebration for the Cycle Station on Wednesday, June 1, at 10 a.m. on June 1, with guest speakers, a ribbon-cutting and snacks from nearby Green Zebra Grocery.
Though the Cycle Station obviously won't be for everyone, it's worth taking a moment to savor this milestone: one of the country's best bike parking facilities is opening to the public in Portland and operating more or less as a business, planning to make money by giving hundreds of people a place to park their bicycles.
Governments can mandate bike lanes, bike parking and even bike programming. But when private businesses get in on the bike game, biking isn't just an aspiration or an ideology. It's a reality.
Disclosure: Hassalo on Eighth is a BikePortland sponsor. The opening of one of North America's largest indoor bike parking facilities would also be newsworthy if they weren't.
— Michael Andersen, (503) 333-7824 – michael@bikeportland.org
The Real Estate Beat is a regular column. You can sign up to get an email of Real Estate Beat posts (and nothing else) here, or read past installments here.