Thursday, October 31st, 2013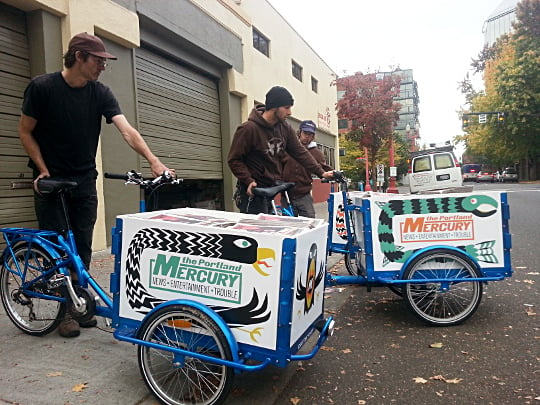 Michael Hanchin, left, drove a Portland Mercury delivery truck for 5 years before successfully pitching the company on a plan to switch to cargo trikes in the inner west side.
(Photo © M. Andersen/BikePortland)
Michael Hanchin couldn't take any more hours behind the wheel.
"You would never know where there's a loading zone," the veteran Portland Mercury delivery contractor, 42, recalled Wednesday. "I think that's what did me in."
Hanchin's back ached from crawling into the bed of his truck to haul out 18-pound newspaper bundles on hands and knees. His fuel and repair costs were eating up his contract income. Sometimes, when he couldn't find anywhere to park downtown, he'd sit behind his wheel and glare at other contractors while they ate lunch in their rigs, hogging the available space.
Then, after five years of delivering the Mercury to inner Southwest Portland every Wednesday, Hanchin had a revelation.