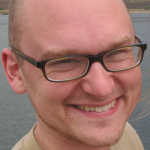 by Michael Andersen (Contributor) on October 17th, 2014 at 11:07 am
The apartment building where the DeLaneys live was designed with lots of parking for small bikes but none for the sort that lets families with children live car-free.
(Photos: M.Andersen/BikePortland)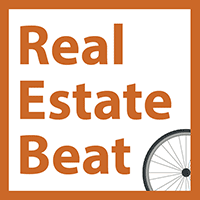 When their name came up this year on the waiting list for a rare below-market two-bedroom apartment in one of Williams Avenue's new apartment buildings, the DeLaney family was thrilled.
It had enough room for their growing family — Bijou, their second daughter, is four months old — and was a short walk to the 35 bus that carries Chris DeLaney to his job at the Bike Gallery in Lake Oswego.
But it lacked something else: a place to park the cargo bike that lets them avoid car ownership and thus afford to live where they do. So, after some negotiation, the DeLaneys are paying $40 a month to park their cargo bike in one of the building's auto parking spaces.