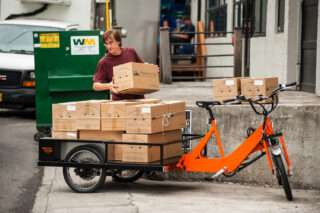 In a partnership with the City of Seattle and University of Washington, delivery giant UPS announced today they will use pedal-assist, electric cargo bikes to make deliveries around Pike Place Market and other parts of downtown.
The best part about this news? The bikes being used in this pilot program come from Portland-based company Truck Trike.
Here's more about the delivery program from a UPS press release:
In an effort to address growing traffic congestion and air quality concerns, UPS and Seattle Mayor Jenny Durkan today announced the deployment of an innovative downtown delivery pilot project using pedal-assist cargo eBikes and customized, modular trailers. The cargo eBikes will operate in the historic Pike Place Market and downtown Seattle area on sidewalks and in designated bike lanes.


"While we have launched cycle logistic projects in other cities, this is the first one designed to meet a variety of urban challenges," said Scott Phillippi, UPS's senior director of maintenance and engineering, international operations. "The modular boxes and trailer allow us to expand our delivery capabilities and meet the unique needs of our Seattle customers. It's exciting to return to our roots – UPS started in Seattle in 1907 as a bicycle messenger company. We're looking forward to being able to offer these customizable urban delivery solutions to other cities nationwide."

Seattle Mayor Durkan said, "As Seattle grows and public and private megaprojects limit capacity on our downtown streets, this pilot will help us better understand how we can ensure the delivery of goods while making space on our streets for transit, bikes, and pedestrians. We are eager to learn how pilots like these can help build a city of the future with fewer cars, more transit and less carbon pollution."


Southeast Portland resident Bill Stites is the man behind the Truck Trike, a concept he's been refining for about a decade. We visited his shop in 2010 and the last time we heard about the Truck Trike one was being shipped to New York City to be used as a Citibike bike share rebalancing vehicle.
Stites' creation can haul a payload of around 750 lbs with its combination of flatbed and versatile trailer.
The Seattle pilot program will last for a year and its impacts on improved delivery reliability and congestion reduction will be evaluated by the Urban Freight Lab at University of Washington.
UPS is no stranger to Stites' work. The company used a customized version of his Truck Trike for a separate pilot program launched in Portland in 2016.
For a look at the innovative design and features of these amazing, pedal-powered machines, check out TruckTrike.com.
— Jonathan Maus: (503) 706-8804, @jonathan_maus on Twitter and jonathan@bikeportland.org
Never miss a story. Sign-up for the daily BP Headlines email.
BikePortland needs your support.