Nine years after their first e-bike pilot kicked off in Hamburg, Germany, United Parcel Service (UPS) is still testing whether or not electric-and-pedal assisted trikes can replace traditional delivery trucks in dense urban areas. Today at the South Park Blocks on the Portland State University Campus, the delivery giant hosted a large event to launch what they refer to as the "UPS Urban Solutions E-Bike" initiative.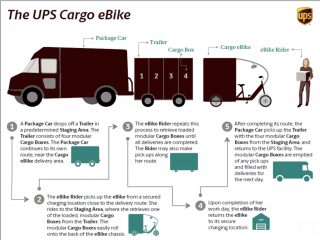 In partnership with PSU and the City of Portland Bureau of Transportation, the initiative will deploy one electric-assisted cargo trike for a year. According to PSU officials at this morning's event, UPS currently has two dedicated trucks that deliver packages within the university district. The intention of this new effort is to see if they can replace one of those trucks with an electric trike. UPS has launched similar pilot programs in recent years in Pittsburgh and Seattle and currently operates an e-bike deliver program in several cities around the globe including Paris, Berlin, London, Dublin, Rome, and others.
For their latest Portland pilot, a UPS truck will drop off a container full of four cargo pods in a staging area on the PSU campus. The trike operator will then load one pod at a time and make deliveries from the staging area. At the end of the day, a UPS truck will retrieve the empty pods and bring them back to the warehouse.
The trike shown at today's event was a Truck Trike designed by Portland-based Stites Design, which we first profiled in 2010. UPS has partnered with Stites twice in the past: In a separate Portland pilot in 2016 and in a Seattle pilot in 2018. As we reported in September, UPS has also worked with the Rytle MovR platform, a German-designed trike made in Portland.
This morning's event included a lot of public relations and marketing materials from UPS. There was a line of banners tracing the company's history, a full spread of lunch for all the invited VIPs (with pre-printed lanyards for each one), lots of free swag, and a table urging people to apply for UPS jobs.
"We're doubling down on our ability to go green," said UPS Northwest President Joe Braham, who touted the e-bike initiative as part of his company's larger effort to curb greenhouse gas emissions and improve efficiency in dense cities where larger vehicles are either too difficult to maneuver or are infeasible due to infrastructural limitations or local ordinances (i.e. carfree zones). When I asked Braham how this pilot would be different than any of the other pilots they've launched in other cities, he said, "That falls back on the partnerships we have with the cities." As for the different bike platforms they're testing, he said, "The trike we use depends on the context. We're trying many different types of vehicles and we're not set on any one thing. We're learning as we go."
This latest experiment is due to begin in a few weeks. Stay tuned for a report on how it's going.
(In my opinion: Given the media attention and free advertising UPS receives every time they announce one of these new e-bike pilots, it makes me wonder whether the bikes are simply a greenwashing/marketing tool. It seems after so many years of studies and pilots, a company of this size would be able to either go big and deploy a real bike delivery program, or cut bait and end the experiments.)
— Jonathan Maus: (503) 706-8804, @jonathan_maus on Twitter and jonathan@bikeportland.org
— Get our headlines delivered to your inbox.
— Support this independent community media outlet with a one-time contribution or monthly subscription.