Eight years in the making, a most exciting film about cargo bikes and family biking is finally here! Fresh off the film festival circuit, the first non-festival showing of Motherload will be here in Portland this Thursday at 7pm at the Clinton Street Theater.


Our Family Biking column is sponsored by Clever Cycles.
➤ Read past entries here.
Motherload is a crowdsourced documentary about a new mother's quest to understand the increasing isolation and disconnection of the digital age, its planetary impact, and how cargo bikes could be an antidote.
Motherload is much more than just the movie. The now 4,400-member-strong Facebook group filmmaker Liz Canning created eight years ago was the first big cargo bike/family bike group I'm aware of. There are others now (including local group, PDX Cargo Bike Gang), but Motherload: a movie, a meeting place, a cargo bike movement, formerly called "(R)Evolutions per Minute" and then "Less Car More Go" as the film title matured was a lifeline for many people looking for family biking advice and community.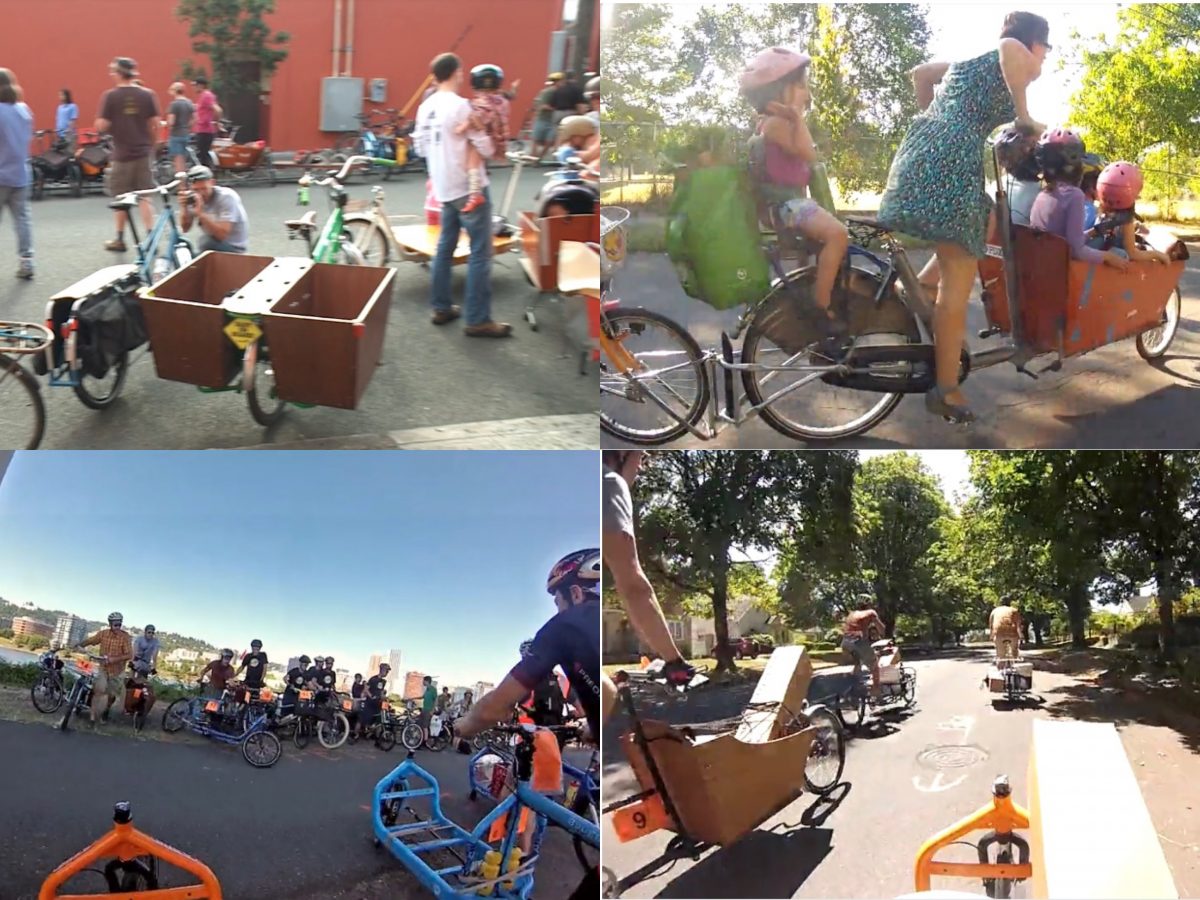 Having watched several trailers, extras, and a rough cut, I know I'll love this final version of the film and I bet you will, too. Liz Canning visited Portland and shot lots of footage and conducted interviews with Portland cargo bike riders and builders so you'll see some familiar scenery and faces. Watch the trailer here:
Motherload is presented by KBOO @ The Clinton and the suggested admission donation is $7-$10, but no one will be turned away for lack of funds. They expect the movie to sell out so it'd be wise to arrive early — the box office opens at 6:30pm.
➤ Biketopia Parade
Obviously a movie of this nature would include a bike ride! Head to Colonel Summer's Park (SE 17th Ave & Taylor St) at 5:45pm where a representative from KBOO will have free organic ice pops for all and lead a family-friendly Biketopia Parade with theme "Animals Heart Bikes" the flat 1.4 miles to the theater. No cargo bike necessary and all non-car vehicles are welcome to join the parade.
If you're unable to make this screening, Motherload will be back for the Oregon Independent Film Festival in September and the Portland Film Festival in October.
Will I see you there? Thanks for reading!
Remember, we're always looking for people to profile. Get in touch if it sounds like fun to you. I'd especially like to feature families of color so please get in touch or ask friends of color who bike with their kids if they're interested in sharing their stories. And as always, feel free ask questions in the comments below or email me your story ideas and insights at madidotcom [at] gmail [dot] com.
— Madi Carlson, @familyride on Instagram and Twitter
Browse past Family Biking posts here.
Never miss a story. Sign-up for the daily BP Headlines email.
BikePortland needs your support.