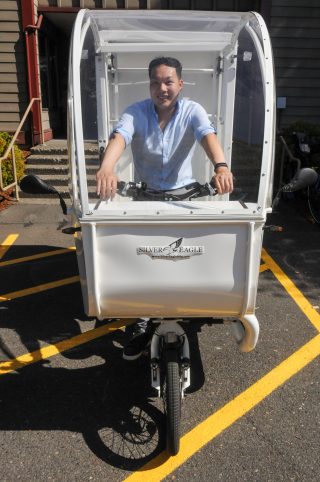 A Portland manufacturing company is confident that a pedal-assisted, light electric vehicle can play a big role in the future of urban delivery. Since January of this year, Silver Eagle Manufacturing in northeast Portland has carved out space in their large factory for a three-wheeled cargo trike that can haul up to 400 pounds and runs on two legs and two lithium-ion batteries.
One of the main reasons they're so bullish on this vehicle? At just 48-inches wide, the trike is fully bike lane legal. That means a rider can haul its 60 cubic foot cargo box around the city without worrying about congestion.
Silver Eagle has purchased the U.S. rights to produce and sell the MovR, which was developed by Rytle, a company based in Germany. The MovR weighs nearly 300 pounds (without a rider) and with its stout aluminum frame it rides more like a tiny truck than a large trike. In addition to two independent hub motors on the rear wheels (which means no drivetrain axle needed to connect them), the MovR has a throttle (which comes in handy at dead stops), turn signals, and even a reverse mode. Speed tops out at 15 mph.
Michael Chen is Silver Eagle's marketing guy. He sees this as the future of last-mile delivery for companies large and small. During a recent demo of the trike, he said the MovR is a new direction for his 80-year-old company. Silver Eagle's bread and butter are cargo trailers for the U.S. military and trailer parts for United Parcel Service (UPS). Instead of a bicycle-oriented company moving into the freight delivery/cargo market, Silver Eagle is a freight company moving into the pedal-powered realm. "In some ways, the MovR is punching under our belt, but it's also something new for us. Everything is moving in this direction," Chen shared.

(Video: Watch Chen reverse the MovR into place and attach the cargo box.)
The boom in online sales and Amazon's delivery dominance has put pressure on the entire freight industry to invest in more efficient and innovative last-mile solutions.
Silver Eagle's 40-year relationship with UPS is key to their future with the MovR. UPS has jumped into the pedal-powered last-mile delivery market with a pilot project launched last fall in Seattle which included a test of the locally designed Truck Trike made by Stites Design. UPS is actively using 30 MovR trikes in Germany (one of our readers spotted one on the streets of Munich last week) and Canadian delivery giant Purolator purchased 20 MovR trikes for its new delivery hub in Toronto.
Chen says it's not just global delivery juggernauts that can benefit from the trikes. He's looking for all types of buyers — from small businesses like bakeries and florists, to colleges who need to move cargo on a large campus. In addition to its impressive cargo capacity and much smaller footprint than a truck, because the MovR is a Class II electric bicycle, you don't need a license or registration to operate it.
Speaking of operation, I got in and was able to take it for a spin down the street with relative ease. Unlike a truck, it corners and turns-around on a dime and I maneuvered through a cramped parking lot without stress.
Beyond just hauling cargo, the MovR can also leave it behind in a secure box. The box is detachable and has wheels so it can be unhinged from the trike and rolled onto elevators, up ramps, and left in storage areas. And at $18,000 (box included), some customers might want to take advantage of the 55 square feet of advertising space on the box's side to recoup some of their investment.
This trike is just the latest vehicle looking to use Portland's bike lanes. Portlanders on bikes already share these (mostly) carfree lanes with electric scooter users, e-boarders, one-wheelers, Biketown rebalancers, delivery riders from B-Line, Portland Pedal Power, and other courier companies, and so on. With the entry of trikes like the MovR, it's probably time to rename bike lanes to something a bit more inclusive and make them wider and more connected so we can finally see their full people-and-cargo-moving potential
Learn more about the MovR on Silver Eagle's website.
— Jonathan Maus: (503) 706-8804, @jonathan_maus on Twitter and jonathan@bikeportland.org
Never miss a story. Sign-up for the daily BP Headlines email.
BikePortland needs your support.