Tuesday, September 1st, 2015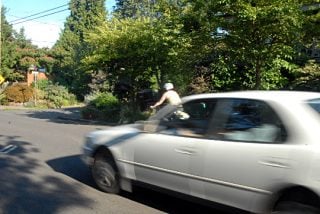 Portland's second-most-ridden neighborhood greenway is being lined up for possible improvements.
Southeast Clinton Street currently sees auto traffic volumes near 26th Avenue that are triple the city's target for a neighborhood greenway and long stretches where auto speeds are 6 to 8 mph above the 20 mph limit.
Three months ago, after joining Transportation Commissioner Steve Novick to call a summit about bike safety, Mayor Charlie Hales said the city "will experiment with diverters — which allow bicycles through but block cars — at different locations."
It was the city's single most substantive response to a series of major biking collisions this spring, and followed years of pressure from the Bicycle Transportation Alliance and a year of noisy organizing by BikeLoudPDX.