by Michael Andersen (News Editor) on June 24th, 2015 at 12:44 pm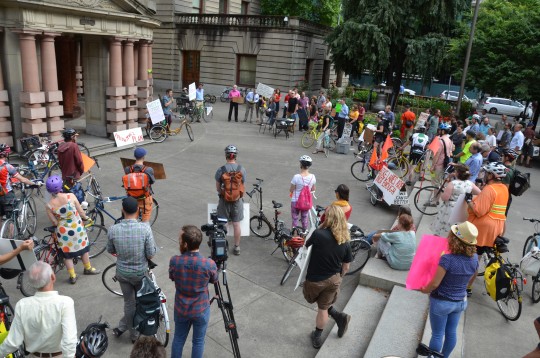 City Council members heard calls for safer streets loud and clear this morning.
(Photos: M.Andersen/BikePortland)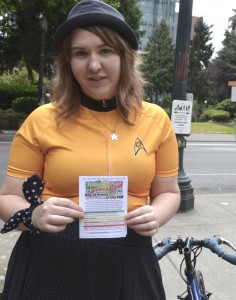 Brittany Gratreak
If the 75 or so Portlanders who came to City Hall this morning to kick off a full day of protests could be said to be speaking for any single person, it might as well have been one of the people there: Brittany Gratreak.
On April 8, the 22-year-old Portland State University student was riding her bike to school in Northeast Broadway's bike lane when a man driving to work accelerated across Broadway from the south, seizing a gap in auto traffic but not considering the fact that he might run into something more fragile than metal. He did.
Gratreak was hit at a 90-degree angle, thrown from her bicycle and knocked unconscious. Once she woke up and received insurance information from the man who'd hit her, she decided to save money by calling a friend, rather than an ambulance, for a ride to the hospital.
She didn't know at the time that by not paying for an ambulance ride, she was avoiding Portland's little-known trigger for a police investigation. Two months later, Gratreak remains in physical therapy.