City Council members heard calls for safer streets loud and clear this morning.
(Photos: M.Andersen/BikePortland)
Brittany Gratreak
If the 75 or so Portlanders who came to City Hall this morning to kick off a full day of protests could be said to be speaking for any single person, it might as well have been one of the people there: Brittany Gratreak.
On April 8, the 22-year-old Portland State University student was riding her bike to school in Northeast Broadway's bike lane when a man driving to work accelerated across Broadway from the south, seizing a gap in auto traffic but not considering the fact that he might run into something more fragile than metal. He did.
Gratreak was hit at a 90-degree angle, thrown from her bicycle and knocked unconscious. Once she woke up and received insurance information from the man who'd hit her, she decided to save money by calling a friend, rather than an ambulance, for a ride to the hospital.
She didn't know at the time that by not paying for an ambulance ride, she was avoiding Portland's little-known trigger for a police investigation. Two months later, Gratreak remains in physical therapy.
"I am not a special interest. Safe roads are a human right."
— Soren Impey, BikeLoudPDX volunteer in official testimony to Portland City Council
"When I sit down I sit like an old guy," she said in a Wednesday interview outside City Hall. "I've still got lots of pain."
Gratreak is hoping the man's insurance money comes through. In the meantime, she's one of hundreds of supporters of the upstart advocacy group BikeLoudPDX who signed postcards or attended Wednesday's rally to ask Portland's city council why a city that has staked its future on being able to quadruple bike use in the next 15 years would tolerate a constant stream of similar stories.
"Vision Zero is not installing door-zone bike lanes on Foster Road," BikeLoud event organizer Jessica Engelman told the crowd Wednesday, to applause. "Vision Zero is not ignoring the residents of Buckman who are pleading for diverters on Ankeny. Vision Zero is not failing to fix apathy and ignorance in the Police Bureau and the Department of Justice."
Gerald Fittipaldi, an organizer of the new advocacy group Bike PSU, asked participants at the rally to raise their hands if they'd been hit by a car. More than half said they had.
Amanda Zrust, who with her partner sold her car and moved to North Portland for a job four months ago, said they were shocked when they arrived in the city they'd heard so much about.
"I was like, cool, I'm going to move to a city. We're going to ride bikes. It's going to be sweet," she said. "But when we got here we were like, How is this different from any other city? I'm going to dodge traffic. There's not protected bike lanes all over the place. The way Portland describes itself it's like, it's going to be so easy."
Sarah Hobbs of Northwest Portland came to Wednesday's rally though a medical condition prevents her from riding a bicycle herself. She said she is haunted by the death, eight years ago, of her friend Brett Jerolimik on Interstate Avenue.
"Back then the city was like, oh, we've got a problem," she said. "But now we're right back where we were. You've got to address this every day, not just the crisis management that City Hall seems so notorious for."
Hobbs says she now walks for most trips, and continues to feel unsafe.
"I'm a pedestrian; I have no car," she said. "I swear the most unsafe spaces for me are crosswalks."
A long line of speakers Wednesday called Portlanders to action on the issue. Bicycle Transportation Alliance Executive Director Rob Sadowsky spoke out against Oregon's state legislature, which he said seemed to have decided in the last few days to abandon a low-carbon fuel standard in the name of a gas tax hike that would direct most of its new money into road expansion rather than safety improvements.
"What's winning out is not safety, it's getting people places they want to go 13 seconds sooner," Sadowsky said.
Sadowsky offered advice for the new advocacy group that had organized Portland's first bike-related City Hall rally in five years.
"Don't be afraid to ask," he said. "If they don't give you what you want, let's find candidates to run."
Joe Rowe, a BikeLoud member, urged those present to do more than just call their political representatives in support of street safety improvements and bills like HB 2621, which would allow Portland to install up to 20 anti-speeding radar cameras on the city's most dangerous streets.
"Don't just call those numbers, save those numbers in your address book like they're your mother or your uncle," he said. "We are here and we are here to stay. So keep involved with BikeLoud, please."
Rowe presented a stack of 500 cards signed by people in support of the rally's five demands:
– Shifting funds away from car throughput and toward safety
– Divert cars off neighborhood greenways
– Enforce existing laws about speed, phone usage, safe passing
– Investigate all collisions involving vulnerable road users
– Stop repeat traffic violence offenders
Roberta Robles spoke, she said, in support of the many people who couldn't attend a Wednesday morning event downtown, which had been scheduled because it's the only time the Portland City Council takes open public testimony.
"They can't be here because they're riding two hours across town to get to their second job," Robles said.
Dan Kaufman, who MC'd the event, acknowledged the large number of white men on the day's speaker list, and also the emphasis of those present on Portland's relatively safer inner neighborhoods.
"The thing is that it's not fair that only certain neighborhoods that were built in the 1920s or earlier are accessible," Kafuman said.
The event drew two speakers from the city government itself: Mayor Charlie Hales and Timur Ender, a transportation policy aide for Transportation Commissioner Steve Novick.
Hales urged people to call the city's traffic hotline, 503-823-SAFE, to request enforcement of traffic laws in any locations where people were breaking traffic laws. (In reply, several people shouted "everywhere.")
Hales said the police bureau's traffic division captain was very willing to dispatch police to enforce traffic laws. "They'll go out," he said. "They're interested in traffic safety."
Hales also urged people to call their legislators in support of the gas tax hike that Sadowsky had just spoken against, saying it would increase the city's transportation revenue, which would free up more money for safety improvements. He also urged support for HB 2621, the safety camera bill.
"We have the bike system we have because of activism in the community," Hales said. "And we need more activism to build a safer system. … When we feel the heat, we see the light."
Ender detailed various actions the city is already pursuing to improve its streets.
"I've seen the look on PBOT staff's faces when someone dies on our roadways," he said. "It's a personal loss."
Many rally participants had made their own signs; some borrowed them from others.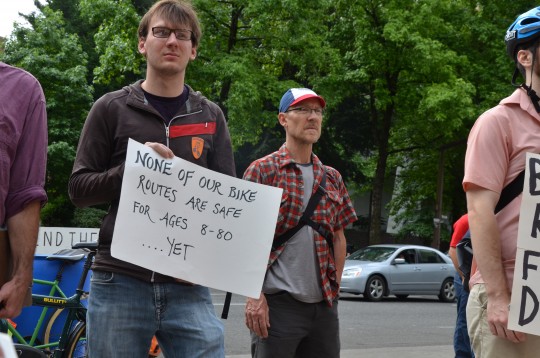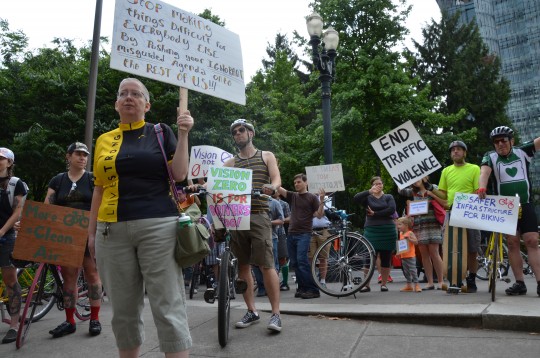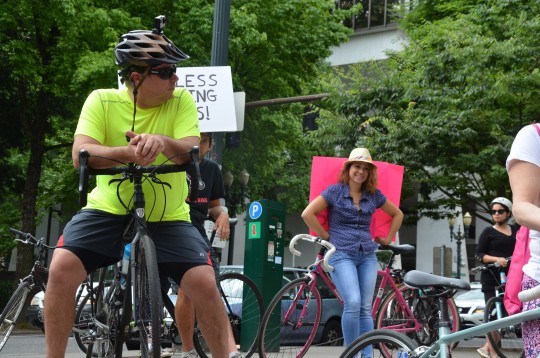 After the outdoor rally, many members filed into the city council chambers in support of two BikeLoud speakers and two Bike PSU speakers who called on the council to prioritize street safety.
"As I sit here asking you to make safe routes a priority, I am not a special interest," said Soren Impey, BikeLoud's direct action organizer. Vision Zero, he said, "is not a series of commmunity meetings. It is an ethical duty."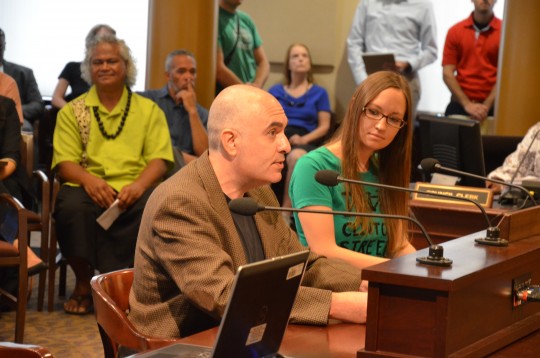 Marissa Trujillo-DeMull of Bike PSU expressed dismay at the lack of any northbound bicycle route away from the campus, which she said is related to the decline in campus biking rates from 13 percent of students in 2010 to 7 percent in 2013.
"We really want portland to remain a platinum city, but right now most of us are afraid of their ride home," she said.
Fittipaldi echoed her.
"Some of my friends bike to campus," he said. "The ones who don't all say the same thing: I'm afraid I'm going to get hit."
The protests continue all day today with the Downgrade Portland ride meeting at 4:30 at NW Park and Couch followed by a big, encore rally back on City Hall steps at 5:00 pm. Follow the action at #SafeStreetsRally and @BikeLoudPDX on Twitter.
Correction 1:15 pm: A previous version of this post referred incorrectly to Engelman's role with BikeLoud.