by Jonathan Maus (Publisher/Editor) on October 18th, 2013 at 12:29 pm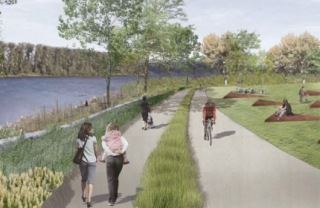 This proposed path in South Waterfront
could finally get funded.
The Portland Bureau of Transportation is zeroing in on a list of projects they hope to get funded with a special pot of state Lottery-backed funds and it looks like bike share might be in the running.
Thanks to a change in the law this past legislative session, bicycling (and walking) projects are now eligible for funding through the Oregon Department of Transportation's ConnectOregon program. Prior to this coming round of funding, the ConnectOregon program was open only to air, marine, rail, and public transit projects.
But this time around, due to the work of advocates and a concerted push by the Bicycle Transportation Alliance, bicycling and walking projects can finally compete for a piece of this $42 million pie.
[Read more…]