Portland's Bike Happy Hour is the place to be on Wednesdays!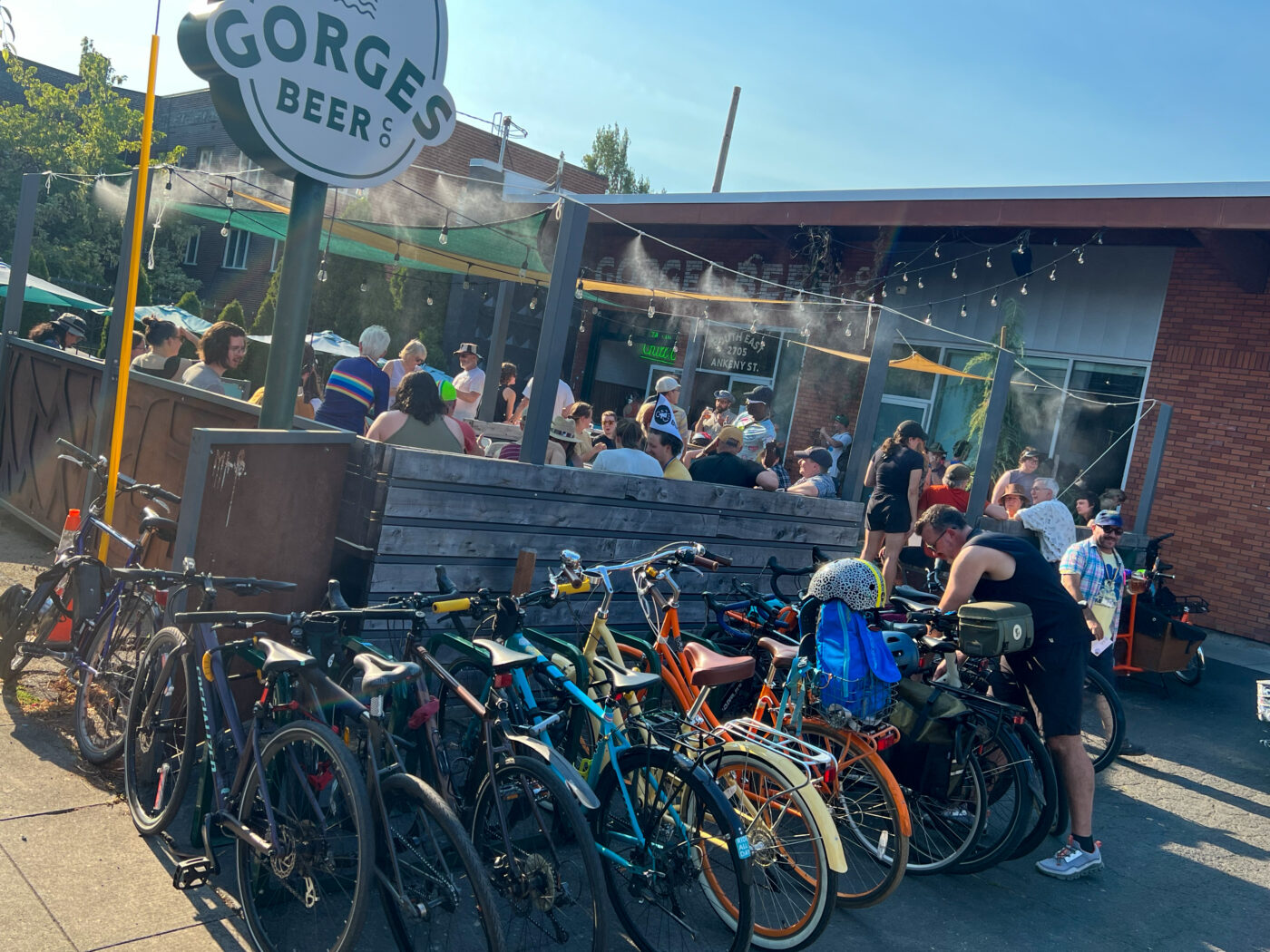 WHEN: Every Wednesday, 3-6:00 pm (usually goes longer), all year long, rain or shine.
WHAT: $2 off all drinks from Gorges Beer Co. (beer only), Ankeny Tap & Table (full drink and food menu via the QR code, including ciders, slushies, kombucha, and non-alcoholic options) and Crema Coffee & Bakery.
WHERE: SE Ankeny Rainbow Road between 27th & 28th. If it is too hot or rainy or whatever, we have an alternate indoor location (2nd floor of Ankeny Tap, across street from Gorges Beer patio).
HOW: Just show up and be nice.
WHY: Come join us and get plugged into the amazing community of bike-minded people here in the Rose City. Everyone is welcome. The only rules are to keep your socializing circles open to new people. That means open up your shoulders and stance as folks walk up, so they feel welcome to join your conversation. And smile! If you're sitting in a circle, always make sure the circle is open and there's at least one more chair available.
Bike Happy Hour is a family friendly and dog-friendly event. Lots of folks brings their kiddos (furry and not furry) and we love it!
We also strongly encouraged name tags. We have special "Regulars Club" loyalty cards (above) that have a name tag on the back. Please bring it each week. If you need one marked off (en route to a free drink on your 9th visit!) or don't have a card yet, please come find me (Jonathan Maus, goofy dude with a BikePortland hat) or other specially designated Happy Hour Ambassador. If you have lanyard or badge/card holder, bring that too.
Follow us on our social channels (@bikeportland everywhere) and our Front Page for updates on what to expect each week. We sometimes have theme nights (like Bike T-Shirt Night) and free prize raffles. If your company or organization is interested in partnering up with us, please email maus.jonathan@gmail.com.
> Browse Bike Happy Hour coverage here
> Check photos below, and like we always say, "See you next week!"