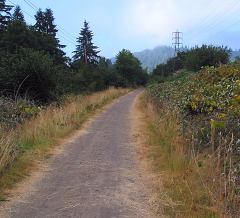 Pavement in limbo due to
funding uncertainty.
(Photo: Aaron Tarfman)
Supporters of a project that would pave the Springwater Trail from SE Rugg Road to Dee Street in Boring are celebrating this morning after news that the Oregon Department of Transportation has put the project on its recommended funding list.
The $1.2 million Springwater Trail project — which was applied for by the Clackamas County Parks department and received an outpouring of community support — is one of 13 on the final recommended list (out of an initial 91). According to Clackamas County Parks planner Katie Dunham, the total project cost is $1.8 million and it won't happen with the TE money.