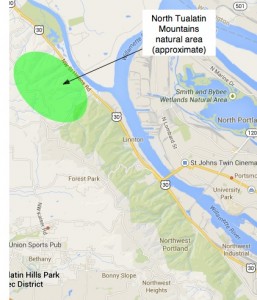 Portland's regional government unanimously approved a plan to allow mountain biking trails in the North Tualatin Mountains Natural Area Thursday in a session that gushed with praise.
"This project took a lot more work than I thought it was going to," said Metro Councilor Sam Chase, whose district includes the natural area just north of Forest Park, to chuckles around the room. "We have really come to a fantastic place."
The vote came despite organized objections from a cluster of people who live nearby, in some cases with property immediately bordering the public land. As we reported last week, some of them held a protest outside Metro's headquarters to argue that allowing mountain biking trails in the natural area would do undue harm to local wildlife.