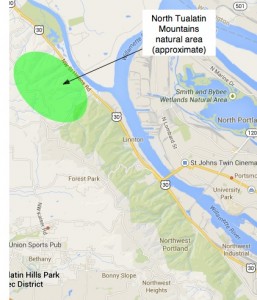 Portland's regional government unanimously approved a plan to allow mountain biking trails in the North Tualatin Mountains Natural Area Thursday in a session that gushed with praise.
"This project took a lot more work than I thought it was going to," said Metro Councilor Sam Chase, whose district includes the natural area just north of Forest Park, to chuckles around the room. "We have really come to a fantastic place."
The vote came despite organized objections from a cluster of people who live nearby, in some cases with property immediately bordering the public land. As we reported last week, some of them held a protest outside Metro's headquarters to argue that allowing mountain biking trails in the natural area would do undue harm to local wildlife.
"Yes, any time a human being enters a natural area, that has an impact on the environment," Chase conceded Thursday. "But by creating access, we're also creating stewards for this natural area."
Allowing limited development enough to let the public enjoy a natural area also helps the environment by reducing pressure for urban sprawl, Chase said: "It allows us to have a compact urban form, because instead of everybody having to have their own big backyard, we all share a big backyard."
Outside Metro's council chambers after the vote, people exchanged hugs and high fives.
"I'm so proud of our members for handling this process in an adult, professional way," said Andrew Jansky of the Northwest Trail Alliance, who was the only member of the public to testify at Thursday's meeting.
Jansky, the mountain-bike recreation group's advocacy chair, said Metro's plan was a milestone in part because it's the first time a Portland-area agency has validated "the idea that bikes and nature are compatible."
"It's always been thought that bikes and nature can't coexist," he said. "This planning effort shows that they can coexist and are not mutually exclusive."
You can read about the possible routes planned for the area here.
Shirley Craddick, who represents East Multnomah County on the council, was the only council member to express some skepticism of the plan, which she said emerged from public testimony last week from people who oppose biking trails in the area.
"I thought all of those comments were really valid, and I have to say I left the hearing with some skepticism, saying is this really the right plan?" Craddick said. But the arguments from Metro staff that biking trails can be designed in a way that will be sensitive to wildlife habitat won her over.
"This is a master plan," she said. "It begins the process."
The other six Metro councilors expressed less ambivalence.
"This is a great plan," said Kathryn Harrington, who represents western Washington County. "I am thrilled with it."
"People are passionate about this land and they have different ideas for how to make the most of it," said Dan Moeller, Metro's conservation program director and the top staffer on the project. "Whether you're a neighbor, a hiker, a cyclist, a conservation advocate or some combination of those, you're an important part of Metro's work going forward. Together, we will serve as stewards of the North Tualatin Mountains."
One of the existing entrances to the North Tualatin Mountains on NW McNamee Road just up from Highway 30 in Burlington.
Jansky, the biking trail advocate, said the advocates who joined forces to support the Metro plan will be better citizens because of this debate.
"They are the future policy regulators, city staffers, planners, voters," Jansky said. "That younger generation is going to move in with this attitude, and probably in 10 years we're going to look back and say, 'Why did this take so long in Portland?'"
Jansky warned that this plan will now need to be followed up with a land-use process to arrive at the details of where the trails will go. It could involve quasi-judicial review by the county government.
"This could just be the false summit," he said. "We're going to need members to still be engaged and still provide support for Metro through that process. There will be more public comment opportunities in the Multnomah County land use process. So we can't quit and rest on our laurels and think that we're going to be riding on trails in two years. I think that's an easy mistake to make."
— Michael Andersen, (503) 333-7824 – michael@bikeportland.org
Our work is supported by subscribers. Please become one today.