Posted by Jonathan Maus (Publisher/Editor) on November 21st, 2014 at 12:21 pm
With renewed energy from Portland's off-road biking advocates and a Metro project that could open up 1,300 acress of trail possibilities, 2015 could be a very big year for advocates itching for more local single track trails.
As we reported yesterday, local advocacy and trail building group the Northwest Trail Alliance has thrown down a gauntlet of sorts by launching an online petition in the form of an open letter to members of Portland City Council. The petition urges them to "catch up with the overflowing demand for off-road cycling opportunities." By the time this story is published there will likely be close to 1,000 signatures collected in its first two days.
It's been four years since a bruising public process ended without any real progress on bike access improvements in Forest Park. After that loss, the NW Trail Alliance vowed to stay focused on the issue.
Now, with the passage of time and healing of wounds, it looks like they're ready to start pushing once again. The Trail Alliance can start fresh with lessons learned and new faces in charge at City Council and on their staff.
Also working in bike advocates' favor is a Metro plan to develop 1,300 acres of land known as the North Tualatin Mountains along Forest Park's northern boundary. As we reported back in September, Metro is entering this planning process with eyes wide open.
But then again, mountain biking advocates were also optimistic back in 2009 when former Parks Commissioner Nick Fish made a bold promise that he was ultimately unable to keep.
However, this time around advocates have even more reason to expect a good result. The biggest difference is that their fate is in Metro's hands now, not Portland Parks & Recreation. And unlike the 2009 Forest Park effort, biking hopes can be based on clear policy language, not a politician's promises.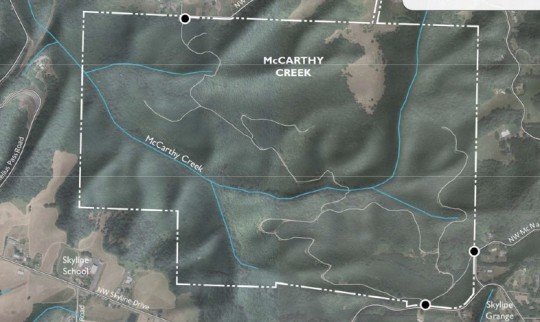 At 403 acres and accessible right off Skyline Blvd and McNamee Road, the McCarthy Creek parcel holds great promise.
The North Tualatin Mountains project is funded through Metro's natural areas levy that voters passed in 2012. The NW Trail Alliance came out in support of that levy because it included specific language about mountain biking.
The levy was adopted by Metro Council in December 2012. Page 14 of Exhibit A in the adopted resolution contains an initial project list. Among the projects listed is one of parcels of the North Tualatin Mountains project. Here's the text of that project description:
Agency Creek/McCarthy Creek
Various parcels near to but outside of Forest Park are currently or could be used by walkers or cyclists to access nature close to Portland. Access to the site is challenging and there may be opportunities to enhance use. Over the past decade the demand for single track mountain biking trails has increased. This project would explore the potential to provide quality cycling and hiking experiences for formal single track cycling and walking trails, and as appropriate, construct the facilities.
While that language doesn't set anything in stone, it's clear Metro has been thinking about single track from the outset and they've left the door wide open.
As you can imagine, people who want more single track trails within riding distance of downtown Portland are taking this Metro process very seriously. If they succeed here, it won't just give them a great new place to ride, it would serve as a symbol of success right next door to where the City of Portland has thus far only failed.
Metro is holding four community meetings to gather feedback on this project. The second one is coming up on December 2nd.
Ryan Francesconi and Andy Jansky, two volunteer advocates with the NW Trail Alliance, hope to see a large contingent of bicycling supporters at the meeting. "Allowing bikes on trails is currently very much a possibility," they wrote on Facebook, "however if we don't attend this meeting and give voice to our perspective we may lose out."
North Tualatin Mountains Open House
Skyline Grange
Tuesday, December 2, 5:30 to 7:30 p.m
11275 NW Skyline Blvd. Portland, OR 97231
Jonathan Maus is BikePortland's editor, publisher and founder. Contact him at @jonathan_maus on Twitter, via email at maus.jonathan@gmail.com, or phone/text at 503-706-8804. Also, if you read and appreciate this site, please become a supporter.