Oak Grove residents Chips Janger, Joseph Edge and Eleanore Hunter say TriMet's new MAX line has made their inner-ring suburb ripe for dense bike- and transit-oriented development, and that neighbors are eager to help it happen.
(Photos: M.Andersen/BikePortland)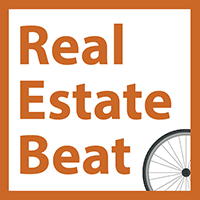 While Portland prepares to block increased development along parts of TriMet's newest MAX line, a group of residents further down the Orange Line say they're welcoming more density with open arms.
Their dream, they say, would be to use three-to-five-story apartment buildings and clusters of new small houses to turn their corner of unincorporated Clackamas County — the last stop on the new MAX line — into a bustling but more nature-rich alternative to Southeast Division Street.