Biking on and around Mt. Hood will get even better.
(Photos by J. Maus/BikePortland)
The Clackamas County Tourism & Cultural Affairs office has announced 10 projects that will split $200,000 in grant funding and seven of the projects support bicycle-related tourism. This news will surely continue the strong momentum for bike tourism in "Mt. Hood Territory" that we reported on back in July.
These tourism development grants are funded through Clackamas County's 6% lodging tax which was passed by voters in 1992. It applies to all lodging receipts over $15 per day from county hotels, campgrounds, events, vacation home rentals, and other types of lodgings.

Here's a look at the exciting, bike-related projects that will get a boost from these grants:
Meldrum Bar Bike Attraction & Events ($7,500)
This project is being worked on by the Oregon City Trail Alliance and it is spearheaded by the owner (Blaine Meier) and staff of of First City Cycles. It will improve and expand a progressive bike jump track at Meldrum Bar Park in Gladstone and a pump track in Oregon City. Total project cost is $68,000 and this grant will be used toward a feasibility study. Check out the video below for more info:

Estacada Cycling / Visitor Plaza ($30,000)
The "Bike Comfort Station" project will build a public plaza in Estacada "designed to attract bikers and other overnight visitors to the City and surrounding area." The plaza will be adjacent to a public restroom and overnight parking and will include bike racks, an info kiosk, benches and signage. Expected completion in 2014. (Total project cost: $98,325)
Sandy / Boring Corn Cross ($6,000)
The City of Sandy wants to bring people out to a major annual cyclocross event in a rural part of the county. Their goal is to host a national-level championship race. This year's inaugural Corn Cross event drew 268 visitors. (Total project cost $8,300)
McIver State Park Hiker / Biker Campground Shelter ($19,200)
Milo McIver State park is already a popular bike-camping destination. This Oregon State Parks project will add three "bike-in" shelters that will include a covered picnic table, secure bike stand, solar-powered device charger and a wind block. Bike traffic at Milo McIver is expected to increase after the Cascading Rivers State Scenic Bikeway (which runs from Estacada to Detroit) is adopted. (Total project cost: $40,160)
More trails coming to Sandy Ridge.
Mt. Hood Moderate Lift-Served Mountain Bike Trail ($40,000 split between 2013-14 and 2014-15)
This project will create a new, "lift-served" bike trail in the Upper Mountain area of Mt. Hood Skibowl. Hurricane Racing is the project lead. They say this project will expand Skibowl's biking options and allow them to open for more days in the season. (Total project cost: $83,500)
Mt. Hood Area Mountain Bike Clinic Series ($8,350)
This award will allow Otto's Ski Shop to put on a series of weekend clinics that will, "introduce new and seasoned riders to both the Mt. Hood area riding opportunities and to the skills needed to enjoy Mt. Hood's extensive mountain bike trails." (Total project cost: $14,350)
Sandy Ridge Trail System Improvements ($30,000)
The Bureau of Land Management (BLM) will use this money to improve beginner-friendly biking opportunities within the Sandy Ridge Trail System, which has become a premier mountain-biking destination. Sandy Ridge had about 60,000 visitors in 2013 and this project will make the area more attractive to novice riders. (Total project cost: $72,260)
It's important to note that the bicycle-centric nature of these awards didn't just happen by accident. As we reported on back in 2011, Travel Oregon held a series of "Bicycle Tourism Studio" workshops with the specific aim to help Clackamas County identify its biking strengths and mold them into real, tangible tourism assets. The projects above are priorities that emerged from that process, showing the value of a strategic, statewide approach to improving bike tourism.
It's this work by Oregon's bike tourism staffers, advocates, and volunteers that led to a feature article highlighting its success in the current issue of Adventure Cyclist Magazine: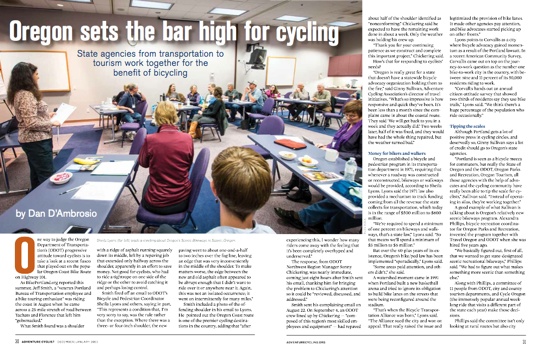 From Adventure Cyclist Magazine December/January 2013
These grants are great news for Oregon's economy and for bicycling in our region. Let's keep the momentum going!
Jonathan Maus is BikePortland's editor, publisher and founder. Contact him at @jonathan_maus on Twitter, via email at maus.jonathan@gmail.com, or phone/text at 503-706-8804. Also, if you read and appreciate this site, please become a supporter.