by Michael Andersen (Contributor) on July 8th, 2013 at 3:58 pm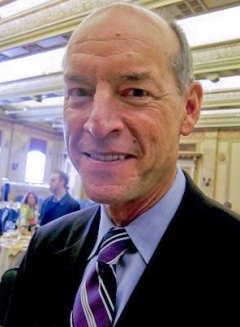 David Knowles, a longtime politico,
is leading the new effort.
(2012 photo by Portland Afoot)
A new nonprofit advocacy group is setting out to be public transportation's answer to the Bicycle Transportation Alliance.
Using Seattle's Transportation Choices Coalition as their working model, a small group of Portland-based advocates has been working since December under the leadership of David Knowles, the top Portland executive at government contractor CH2M Hill, to discuss the nonprofit startup.
The group is in the process of recruiting its founding staffer.
"I think this region has generally been committed to transit, but a focused effort to expand transit is really needed at this time," Mara Gross, interim executive director of the Coalition for a Livable Future and a participant in the conversation, said Monday. "Lower-income communities and communities of color are increasingly living in a ring around the central cities. They're in East Portland, east county, Washington County, Clark County … regions that are harder to serve by transit."
Rob Sadowsky and Steph Routh, executive directors of the BTA and Oregon Walks, have also been invited to the talks, as have TriMet, Bernie Bottomly of the Portland Business Alliance, the anti-sprawl nonprofit 1000 Friends of Oregon, and representatives of many local businesses including chipmaker Intel, planning firm David Evans and Associates, architects Zimmer Gunsul Frasca and downtown real estate firm Melvin Mark.
[Read more…]