Portland is launching a bike share program with 1,000 bikes. But what about people with who need to ride a hand-cycle or a recumbent or a trike due to a physical disability? Will they be able to use this new system?
That's a question raised by city council candidate Chloe Eudaly just six weeks before Portland's Nike-sponsored Biketown system is set to launch.

"While it can be expensive to accommodate people with disabilities, excluding them also comes at a great cost. It may also violate federal law."
— Chloe Eudaly, candidate for Portland City Council
Eudaly, who happens to be running against incumbent City Commissioner (and head of the transportation bureau) Steve Novick, posted to her election campaign Facebook page on May 24th that while she's excited about bike share she's also, "disappointed to find out that the program excludes people with mobility challenges."
"How is a 1,000 bike program without a single adapted bike equitable or inclusive?" she wrote. Eudaly questioned how the City of Portland could afford "limited edition wrap designs" but not pay for adaptive bikes to be part of the fleet. "People with disabilities also often have diminished opportunities for socializing, recreation, and exercise and poorer quality of life and health outcomes as a result," she continued. "So, while it can be expensive to accommodate people with disabilities, excluding them also comes at a great cost. It may also violate federal law."
Eudaly is referring to Title II of the Americans with Disabilities Act which states that, "Public transportation authorities may not discriminate against people with disabilities in the provision of their services."
We followed up with Eudaly, the City of Portland, a lawyer, bike share operators from other cities, the executive director of Disability Rights Oregon and others to learn more about this issue.
To Eudaly, it's simple: "This is a matter of equity," she wrote in an email to BikePortland. Here's more from her email:
We have a whole office devoted to it now, which aims to recognize and remove "systemic barriers to fair and just distribution of resources, access and opportunity, starting with issues of race and disability." Yet there was seemingly zero consideration given to making our Biketown program accessible to people with disabilities. I find this statement from the website particularly galling, "Biketown is a celebration of the Portland spirit: active, creative, inventive, and inclusive", just not creative, inventive, or inclusive enough to include people with disabilities I guess.
There's no mention of disabled persons access on the City's bike share program website. There are several references to equity, but only as it pertains to ethnicity and economics. Bike share is absent from the available meeting minutes of the the City of Portland's Commission on Disability (PCOD), a group that meets monthly specifically to advise the city on ADA-related issues. Suzanne Stahl, the current PCOD chair, commented on Eudaly's Facebook post and said that Biketown "Must provide adaptable alternatives." Stahl says the program also violates the federal Rehabilitation Act.
"It is a key question and we're working toward an answer by talking to our peer cities and people in the disability community."
— John Brady, PBOT
Portland-based Disability Rights Oregon is a nonprofit that offers legal assistance to people with disabilities. Their Executive Director Bob Joondeph said in an interview today, "It's really unfortunate," that the city doesn't appear to have given any thought about this issue. "When the city gets involved in any type of public service, they have an obligation to make sure it's accessible to people with disabilities." Joondeph didn't offer a legal perspective on the case and said so far no one has filed a formal complaint with his office; but he did say he's experienced this problem with the City of Portland in the past. "We've run into this before where they launched something and it's only at the very end where they say, 'Oh yeah!'".
Joondeph said this reminds him of when the city launched its first streetcar line without considering disabled persons in the station designs. "They didn't think about it until the end." When it comes to Eudaly's criticisms of the bike share program, Joondeph said, "I think she's got a point."
We asked the Portland Bureau of Transportation if Biketown would be accessible to people with disabilities. Here's the statement they gave us nine days later:
"The City is committed to seeing Biketown be successful for a wide range of Portlanders. We've been talking with our peers in other cities and are reaching out across the different communities of people with disabilities to listen and learn. Biketown will add to an already rich choice of transportation options."
That didn't answer our questions, so we had the following exchange:
So does this mean Biketown isn't currently accessible to people with disabilities?
"I don't think we can assume that given that there is a range of different types of disability," replied PBOT Communication Director John Brady.
Was access to the bikes by disabled persons considered in the planning process?
"Yes, the topic of access and broader issues related to disability were part of the planning process," Brady wrote in an email. "For example, in the station siting process, we have made sure that we comply with the Americans with Disabilities Act."
That's about station locations not impeding with ADA access; but how about the actual use of the bikes and the system itself? Or, put another way: If someone with a physical disability that prevents them from riding a standard bicycle wants to use Biketown, what would they do?
"Right, the way you've rephrased it is a key question and we're working toward an answer by talking to our peer cities and people in the disability community."
Dennis Steinman is an attorney with Kell, Alterman & Runstein L.L.P. in Portland and has over 20 years of experience in ADA law. He said no matter how you slice it, the City of Portland is required to make bike share accessible to people with disabilities. "Any public entity must make all of the services they offer accessible…. Any time Portland offers some form of new service, they have to do a self-evaluation as to how – if at all – it's ADA compliant."
According to Steinman there are four exceptions to the ADA law: If the accomodation leads to undue financial burden, undue administrative burden, if it would "fundamentally alter the nature of the program," or if it would constitute a safety risk. In the case of Portland bike share, Steinman says none of those excuses would hold up in court. Financially, Steinman explained, cities are seen by the courts as having "endless pockets." He's never seen the administrative burden argument win, and he doesn't think adding adaptive bikes into the fleet would "fundamentally" change the nature of the program or that there use would create a safety risk.
In my research of other bike share systems around the country I couldn't find any major vendors that offer adaptive bikes or specific services for people that have disabilities. Capital Bikeshare in Washington D.C., one of the nation's largest and most successful programs, mentions disabled access in their FAQ but simply points people to an email if they need "reasonable accomodation." Capital Bikeshare says their bike share system is part of "part of a regional transporation system" that is ADA-compliant and therefore it's legal under federal law.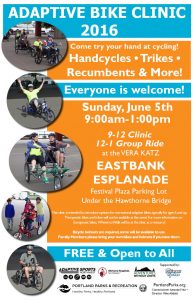 Acting on a tip I contacted Dave Fotsch, the director of Boise Idaho's bike share system "GreenBike". Fotsch said they initially talked about making special accomodations for people with disabilities, but they didn't in the end. "The range of disabilities is so wide and the possible solutions so narrow that we didn't think we could do justice to any particular group," he said.
GreenBike uses Social Bicycles, the same type of bicycles Portland's system will use. Social Bicycles doesn't offer any adaptive bicycles — highlighting a problem for cities who want the option to purchase them.
B-Cycle is the only national bike share equipment vendor to offer a non-standard bicycle for city fleets. Their tricycle has been used in several cities since it was introduced in 2013. One of them is Boulder, Colorado. Boulder B-Cycle Director James Waddell told us he considered having one in their fleet but it didn't work out. "They were double the price, and the one we borrowed from Denver B-cycle to try proved to be slightly dangerous for even able bodied people to ride!"
Overall it seems like the issue of making bike share systems accessible to people who can't ride a standard two-wheeled bicycle, is a new issue that deserves more attention.
Is there even a demand for adaptive bikes?
Adam Amundsen runs Different Spokes, a shop in Portland that specializes in adaptive bikes. "People with disabilities don't always advocate for themselves if they feel like it'll be a major hassle or expense," he said today in an interview. Sort of like bike parking or bike lanes, the demand only shows up once the infrastructure is available. Amundsen said if different types of bikes were available, they'd definitely get ridden. He added that Portland is known for being an inclusive place where "people can be their true person in public" and that one of the greatest things about biking is that – with the right type of bike – nearly anyone can do it.
To prove it, Amundsen is helping put on an Adaptive Bike Clinic this Sunday in partnership with the City of Portland's Parks Bureau, Adaptive Sports NW, Shriner's Hospital, Adventures Without Limits and other organizations.
As for how to make Biketown more accessible to people with disabilities, the bikes that will be at Sunday's clinic are examples of ones that could potentially be integrated into the system. The City of Portland Parks Bureau has had a senior cycling program for years that uses tricycles. Along with local experts like Amundsen, Portland has other adaptive bike resources like Adaptive Sports Northwest and the popular Bike First! program run by the Northwest Down Syndrome Association.
This isn't the first time the City of Portland has faced a learning curve when it comes to making new types of mobility options accessible to its disabled citizens. Making sure Uber vehicles would accomodate wheelchair users was a big win in the tense negotiations between City Hall and the aggressive ride-hailing service.
PBOT has about six weeks before the launch of bike share and Council Candidate Eudaly wants to see them do something about it. "I urge PBOT and the City of Portland to do the right thing. Show our disability community just how creative, inventive, and inclusive we can be, and avoid any potential lawsuits down the line."
— Jonathan Maus, (503) 706-8804 – jonathan@bikeportland.org
Our work is supported by subscribers. Please become one today.