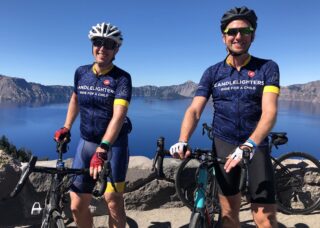 Written by Tony Jordan. BikePortland is always open to sharing your guest articles. Please get in touch if you'd like to contribute!
On January 29th, Cycle Oregon will announce its 2020 routes at the annual Kickoff Party. According to their website we can expect some surprises such as, "short and long options, gravel options, multiple layover days, bonus activities, and more opportunities to really become part of the communities." The new options and extra rest and recovery time should make the ride accessible to more people, but plenty of riders will spend some time following the announcements wringing their hands over the costs, training time, and logistics of committing to a wonderful-but-challenging week of epic rides.
I'm here to tell you that there's a way to ride Cycle Oregon with a built-in group of new friends, a schedule of training rides, extensive additional in-camp support, and maybe even some financial assistance; all while supporting another worthy charitable organization. It's kind of like a Cycle Oregon cheat code and it's called Ride for a Child.