The protest was organized after a man biking across Powell Boulevard
lost a leg
in a collision with a turning pickup truck.
(Photos: M.Andersen/BikePortland unless noted)
About two dozen people lay in the one-way street outside the Oregon Department of Transportation's Portland regional headquarters Wednesday afternoon in a mostly silent demonstration in support of safety improvements on Portland's urban highways.
Most had biked to the spot; some lay their bicycles beside them. Others had walked; one said he'd walked downtown from North Portland.
Some were children. Some wore fake blood made from ketchup. One had brought a stack of signs: "Oregon Department of Traumatic Injury."
"The objective is to bring changes to ODOT's highways in Portland, where there are high-crash corridors, where too many Portlanders have been killed," said Soren Impey, the Oregon Health and Science University professor and BikeLoudPDX organizer who called for the event on Monday morning. "The focus, we believe, is too much on speed and getting people through Portland as fast as possible."
Impey said ODOT "has been dragging their feet" on what he called "inexpensive safety improvements" such as speed reduction, traffic signals and restriping lanes to make them narrower or fewer.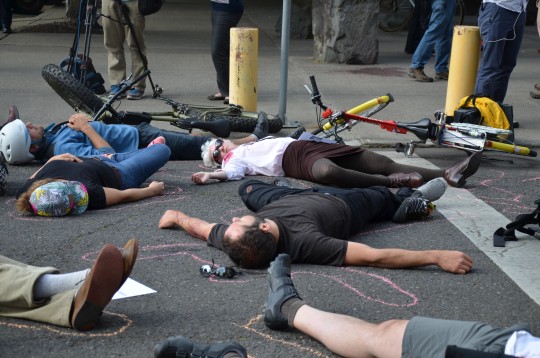 Standing on the sidewalk nearby, ODOT spokesman Don Hamilton said the agency was "already putting a lot of money into a lot of safety projects" on Portland's high-crash corridors.
"There are 10 of them in the city and three of them are ODOT's," Hamilton said: Southeast Powell, Southwest Barbur and 82nd Avenue. The worst of the three, he said, was actually 82nd.
"We've got fairly aggressive safety projects going in on them all right now," he said.
Hamilton said the projects included improved visibility, better lighting, new traffic signals and left-turn arrows, and that "tens of millions" would be spent on them in the next few years.
"The next thing you're going to ask me is why does it take so freakin' long," Hamilton said. "We have a lot of people involved in these projects. We need the input from people."
Not everyone was there to protest. Ted, a local truck driver who wouldn't give his last name, said he'd taken half the day off so he could come and see the event, which he called "Portland out of control."
"These people, they go — they just go," said Ted. "They're too unpredictable. Their bikes are like this all the time." Ted moved his hands forward in a wavy line.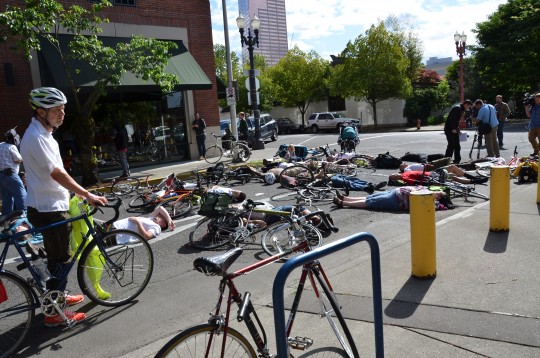 Ted said that if Powell were reduced to one lane in each direction the way Division Street recently was, it'd double the amount of time it takes him to drive hsi truck across the city.
"I'm not paid for that," he said. "I'm paid by the trip."
(Over at the Mercury, news editor Dirk VanderHart has a nicely written piece focusing on Ted and the people who agree with him.)
(Photo: Caesar Ursic)
Back on the Flanders Street pavement, Impey said the protest was intended to be in support of people in cars and trucks, too.
"We're here to represent everyone," he said. "These high-crash corridors are dangerous for all Portlanders, not just people who are walking or biking."
Correction 9:30 pm: A previous version of this post said the event happened on Tuesday. Today is Wednesday. It's been a strange week.