(Photo © J. Maus/BikePortland)
Since early fall, the Oregon Department of Transportation has often mentioned stakeholders who oppose a proposal to re-stripe about 1.5 miles of Southwest Barbur Boulevard, replacing one northbound lane to create room for two bike lanes.
"Over the past several months, ODOT has received both strong messages of support for a road diet and strong objections from stakeholders who feel that reducing motor vehicle capacity on Barbur/99W would create unacceptable impacts for commuters, businesses, transit, and freight operations," ODOT's Jessica Horning wrote in a Sept. 5 memo.
The current design pushes bikes and cars into the same 45-mph auto lane as they cross two narrow bridges. Barbur has been eyed for bikeway improvements for many years as it's the only flat link between most of Southwest Portland and the rest of the city.
But there are many factors at play here, so we wanted to give other views a fair airing and if possible get in touch with these stakeholders to include their comments for our stories. So, on Sept. 11, we asked ODOT to share the messages it was referring to. Two days ago, after a formal records request, the agency did.
Since Jan. 1, ODOT's records show, it's received direct communications about the proposal from 29 different organizations or individuals, not counting several repeats. Of those, 23 (including several we've reported already, such as Southwest Neighborhoods Inc., the City Club of Portland, Lewis and Clark College, Oregon Walks, the Portland Bicycle Advisory Committee and the Bicycle Transportation Alliance) supported analysis of a road diet.
The other six letters opposed further work on it.
Of course, there are many people on both sides of this subject who haven't communicated directly with ODOT, and many thousands more who aren't aware of the debate at all. But in hope of helping everyone understand each other a bit better, here's what the six opponents said. Click them to enlarge:
"All lanes are needed for cars/buses etc." That was the take on Jan. 16 from Patti Waitman-Ingebretsen:
"The vast majority of Portlanders, myself included, rely primarily on automobiles for travel." That's from Casey Holdahl, on Jan. 17:
"Any reduction in vehicular capacity is highly undesirable and irresponsible in the long run." Until this year, a Barbur road diet was nothing but a concept. But according to the Metro traffic engineer on the project, preliminary studies completed this spring and summer showed that re-striping this stretch of Barbur would reduce traffic speeds, especially during the morning rush, by as much as a few minutes, and would therefore divert some traffic onto other streets. The number of vehicles the road can carry in a given hour, on the other hand, would barely change.
"The capacity constraint remains at the signal at Terwilliger at the south end," Metro's Anthony Buczek said in a Sept. 11 interview. "It does slow things down, because the slowest car's going to dictate the flow of traffic when you only have one lane. But it doesn't really reduce the capacity, or at least not very much."
On Sept. 12, responding to news coverage about this tradeoff, Randy Evans sent ODOT this letter of praise for the agency for their "continued resistance from the PDX bike lobby…" (among other things):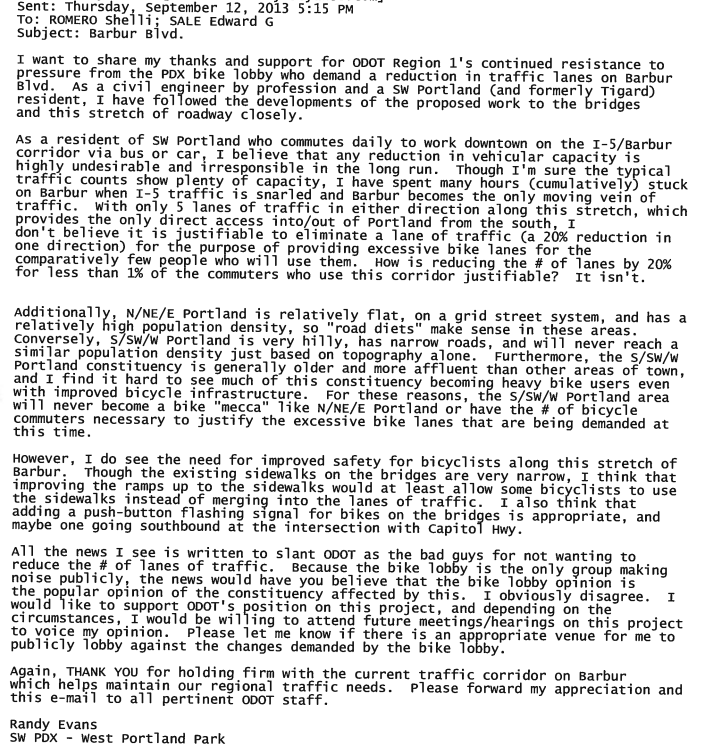 "Southwest Barbur Boulevard is a key inter-city road and an important relief valve when Interstate 5 is backed up due to accidents." That's from the Portland Business Alliance, the area's chamber of commerce, in a two-page letter to city officials, and apparently also to ODOT, on Oct. 7:
"The corridor is of regional significance and warrants an increase, as opposed to a reduction, in capacity." On Oct. 8, the Portland Freight Committee weighed in with a letter to Portland Transportation Commissioner Steve Novick (see also our previous coverage of the full letter):
"One lane each way on Barbur will never work. Too much traffic on Barbur." That's from the final anti-road-diet correspondent, Sue Conachan, on Oct. 15:
Conachan's letter arrived soon after the most recent development about the future of Barbur: Portland City Council's Oct. 9 decision not to require ODOT to fast-track a more detailed study of restriping Barbur. Novick said at the time that he would make his preferences on the issue public "in the coming months."
As Novick said at the time: "Just as there are people who people passionately in favor of a road diet, there are also people who are concerned about it."
True enough.
Michael Andersen was news editor of BikePortland.org from 2013 to 2016 and still pops up occasionally.