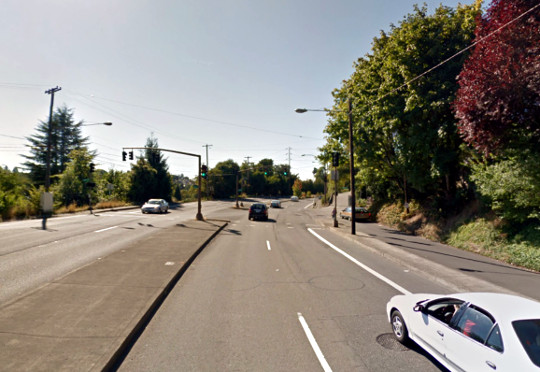 I promise we're going to be able to focus on cheerier subjects soon, but some facts are too shocking to pass over.
After a late-night crash that police say involved drunk and reckless driving, the corner of Southwest Barbur and Miles has now seen three road deaths in a single year. That's 9 percent of the 35 traffic fatalities that have happened in the entire city of Portland in 2013.
The intersection is on the main bike route that connects most of Southwest Portland with rest of the city.
Here's the awful lineup, told in Police Bureau press releases:
On Tuesday May 14, 2013, at approximately 10:30 p.m., Central Precinct officers responded to Southwest Barbur Boulevard and Miles Street on the report of a car down the embankment after it struck a telephone pole.
The driver and victim was Lance Marcus, 45, a Salem businessman. He had been driving his Audi A-6 northbound "well above the speed limit." He died at the scene.
This afternoon, Monday November 25, 2013, at 2:37 p.m., Central Precinct officers responded to the report of a serious traffic crash involving two vehicles at Southwest Barbur Boulevard and Miles Street.
The driver and victim was Debra Ann Maymi, 55, a Northwest Portland businesswoman. She had been driving a Ford Freestyle mini-van southbound when her van crossed the center median and into northbound traffic, colliding with a city dump truck. She died at the scene.
This morning, Friday December 27, 2013, at 3:06 a.m., Central Precinct officers responded to Southwest Barbur Boulevard and Miles Street on the report that a vehicle crashed into a tree.
The driver was Audy Molina-Colindres, 29. He had been driving southbound when he "lost control, crossed over a median, through the northbound lanes of S.W. Barbur Blvd. and collided with a large tree." His passenger, Dmitiriy G. Maksimov, 28, died at the scene. Police accused Molina-Colindres of manslaughter, reckless driving and driving under the influence of intoxicants.
When we last mentioned this intersection, in October, Jonathan noted in an editorial that Nisha Rana, 25, had died in 2011 while driving southbound a few blocks to the north. Within one mile to the north on Barbur are the sites of a 2013 near-fatality hit-and-run, a 2010 fatality involving a speeding southbound car and a 2009 double fatality involving a speeding southbound motorcycle.
Bicycles must currently merge with auto traffic
as they cross two bridges near this corner.
(Image by Friends of Barbur)
Awful as it is, none of this might be worth noting on BikePortland if this very one-mile stretch of Barbur didn't include two points at which people on bicycles and in cars are forced to merge into the same 45-mph travel lane as it crosses two narrow bridges.
A Metro traffic engineer who examined this area says that replacing a northbound travel lane on this stretch with two buffered bike lanes would slow northbound traffic without reducing road capacity by forcing northbound cars to travel at the speed of the slowest-moving vehicle. The Oregon Department of Transportation, however, has rejected that plan on the grounds that it would slow average northbound rush-hour travel times by several minutes over the next 20 years.
Could removing an auto lane make this corner safer for people in cars? Jim Gardner, who has lived near Barbur for 40 years (and who supports a fix for what he calls the "inherently dangerous" bridges that lack bike lanes) doubts it. Before 2011, he noted, there was no clear history of fatal crashes at Miles.
"Though in the middle of the city, it feels like a rural freeway: wooded on both sides, two wide lanes, gentle curves, no intersections, no visible habitation, no driveways," Gardner said of the stretch, in an email Friday. "It invites speed and demands little attention. Then comes a reduced speed limit, a right hand curve, and the intersection, all within a fairly short distance. But does all that mean it is inherently dangerous? I think not. If it were so, there would be a much longer history of accidents there, even fatal ones."
Gardner said he thinks speed limit enforcement would be one way to make the road safer.
"It's a big world with many sharp edges," Gardner added. "We have a duty not to increase those risks unnecessarily, but we also can't idiot-proof everywhere and everything."
Moreover, all of these fatalities but one involved speeding southbound vehicles, who would still have two lanes under the main restriping plan. And it's not clear whether simply adding paint-buffered bike lanes would tend to change the behavior of people driving recklessly in either direction.
It is certain, however, that the deadliest intersection in the city of Portland is also the southbound end of a proposed 1.5 mile restriping that engineers say would slow traffic and separate bikes from cars without reducing road capacity.
In an October email, before Barbur's latest two fatalities, Bicycle Transportation Alliance Advocate Carl Larson weighed in on a conversation with Gardner and others, saying that although "better street design can't keep people from making bad decisions," it can "reduce the impact of those decisions."
"We have too many streets that, with their wide lanes, poorly timed lights, and radiused curves function all-too-beautifully for driving on at double the speed limit, drunk," Larson argued. "That's a design problem — one that can be fixed."
Correction: An earlier version of this post referred to an incorrect street name at one point, and referred to the top image as being from the wrong direction.