Friday, November 15th, 2013
In 2002, looking for future bottlenecks in its road system, the City of Beaverton was troubled by traffic projections for the corner of Southwest Farmington and Murray, one mile west of its historic downtown.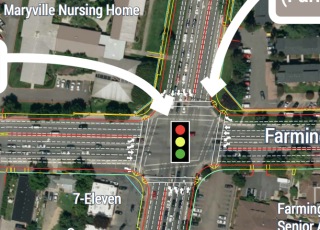 Detail of project concept drawing. (Note the widened
intersections and proximity of a nursing home.)
By 2020, traffic engineers calculated, the number of cars using Farmington would soar from 27,000 cars per day to 36,000, clogging traffic unless the five-lane intersection there — which hosts a 7-Eleven, an apartment complex, a senior living facility and a nursing home — were widened to seven traffic lanes. But after unsuccessfully casting about for years to find money for their "Farmington Road Improvement Project," the city mothballed it.
Then a funny thing happened: nothing. There was no permanent traffic jam. Eleven years and two business cycles later, Farmington actually carries 700 fewer cars per day.
The seven-lane intersection, however, is back from the dead. The project, which also includes a new center lane further east on Farmington, newly striped bike lanes, a segment of sidewalk and a new signal and realignment of 142nd Avenue, is on track to be paid for by $21 million in Washington County property taxes.