Tuesday, November 4th, 2014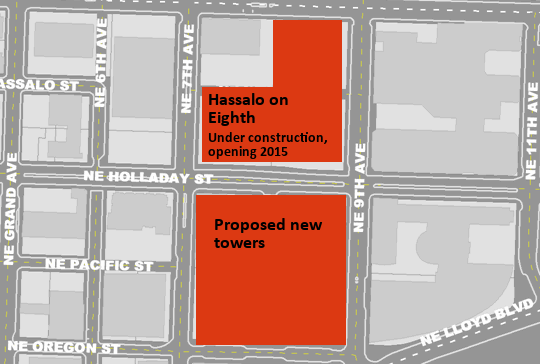 The tallest of the proposed new towers would be 32 stories tall, by far Portland's tallest east of the Willamette River.
(Image: BikePortland from PortlandMaps.com)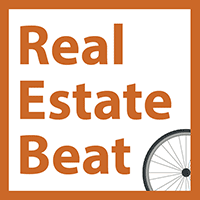 It looks as if the mother of all Portland's low-car apartment projects is likely to get a sibling — maybe an even bigger one.
Across the MAX line from the 657-apartment, 44,000-square-foot-retail Hassalo on Eighth complex opening next year that also happens to be the biggest bike parking project in North America, the same company is proposing a separate block of towers with 1,030 apartments and another 36,000 square feet of retail.
If approved and completed, it'd bring another huge burst of pressure — and, potentially, of development fees — to improve north-south biking connections through the Lloyd, including a much-discussed biking-walking bridge over Interstate 84 to create a 7th/9th Avenue neighborhood greenway linking inner Northeast and Southeast.