by Michael Andersen (News Editor) on October 15th, 2015 at 4:14 pm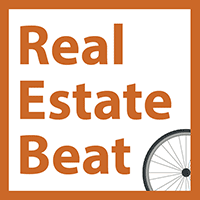 It's hard to say yet whether living in Velomor is leading people to bike more. But the people who've moved in certainly own a lot of bikes.
Bike parking for the 177-unit Lloyd District building that opened in July is already full and overflowing, and the apartment managers have set up two overflow racks in the still-vacant first-floor retail space that faces Holladay Street. Residents access the overflow racks by asking a concierge to let them in.
Velomor, the first of three buildings to open at Hassalo on Eighth, is currently about 80 percent occupied but almost entirely leased up for next month, a concierge said Thursday.