The Lloyd Blocks project — adjacent to the new buffered bike lanes on NE Multnomah — is underway.
(Photo © J. Maus/BikePortland)
Dozens of new apartment buildings intended for low-car Portlanders are popping up across the inner east side, but the one where work just started two weeks ago will be the biggest one of all.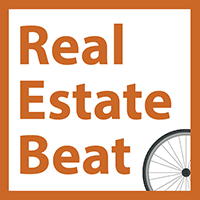 With 657 apartments stacked into 21 stories and 44,000 square feet of retail space below, the Lloyd Blocks project, sometimes referred to as "the superblock," is the Lloyd District's best chance in years to shake off its reputation of sterility and change itself into a "16-hour district" with street-facing bars and restaurants that stay open after 6 p.m.
And because the Lloyd Blocks will include only one residential auto parking space for every two apartments, they're also a $250 million bet by a major California landlord, American Assets Trust, on the long-term marketability of low-car life in Portland.
A May 2013 rendering of the Lloyd Blocks.
When it opens in 2015, the project will finally justify one of TriMet's least explicable MAX stops, at NE 7th Avenue. It'll give a major boost to the eastside streetcar line, whose tracks were rerouted northward just so they could stop at this project's front door. And it'll up the pressure for a new bike-friendly crossing of Interstate 84 that could create a neighborhood greenway on NE 7th and SE 9th Avenues.
If the project lures a "specialty grocer" to the southwest corner of NE 9th and Multnomah, as its developers think they can, the project could become a new main street for the rapidly growing Kerns and Eliot neighborhoods — but only if residents are willing to cross Interstate 84 and the auto-oriented Broadway-Weidler couplet to get there.
This is why, with bulldozers already at work, it's especially strange that so few people seem eager to talk about this massive project.
"There is virtually no coverage by any news source on the project, and precious little info available from [the Bureau of Development Services]," said Craig Harlow, who lives and works near the Lloyd District and often uses bikes to get around the area with his four children. Harlow has tried to raise objections to what he describes as a "dead block face" along 9th Avenue that developers have requested to build despite a city standard that at least half the block should have street-facing windows.
"This neighborhood is particularly impacted by dead block faces, all around the DoubleTree Hotel, along most of the length of the Lloyd Center Mall on Multnomah, around most of the Lloyd Center Tower and the BPA building," Harlow wrote in a June email. "They contribute to a 'just keep moving' message to pedestrians that provides a welcome environment for drug dealing and drive-fast environment for cars."
Kara Fioravanti, a BDS staffer listed as a contact on the project, didn't respond to multiple requests for information over the last three weeks. (In the meantime, the appeal window for a proposal related to the project expired.)
The Lloyd Transportation Management Association, a nonprofit with a regional mandate to reduce car dependence in the Lloyd District, said Tuesday that it has no comment on whether 657 new apartments on a single large block will increase the need for a more complete bike network in the area.
As we reported in 2011, real estate professionals associated with the Lloyd Blocks project essentially vetoed a consultant's recommendation that NE Holladay Street should be the neighborhood's main east-west bikeway, instead endorsing a plan to re-allocate lanes on NE Multnomah in order to create protected bike lanes. On Multnomah, thanks in part to advocacy from Harlow and others, the result isn't bad at all. But if human-oriented streets fall by the wayside in the Lloyd, will the Lloyd Blocks ever successfully bring Portland's most boring neighborhood to life?
— The Real Estate Beat is a weekly column. Read more here.