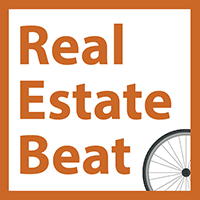 It's hard to say yet whether living in Velomor is leading people to bike more. But the people who've moved in certainly own a lot of bikes.
Bike parking for the 177-unit Lloyd District building that opened in July is already full and overflowing, and the apartment managers have set up two overflow racks in the still-vacant first-floor retail space that faces Holladay Street. Residents access the overflow racks by asking a concierge to let them in.
Velomor, the first of three buildings to open at Hassalo on Eighth, is currently about 80 percent occupied but almost entirely leased up for next month, a concierge said Thursday.
In one sense, of course, lots of bikes is great news. But they may also represent a challenge for Hassalo on Eighth, the big Lloyd District development that has only been able to find room for more than 1,200 bikes by making some of its bike parking areas much more convenient than others.
Here's the problem: What do you do when a bunch of the bikes that fill a building's bike parking spaces are rarely getting used?
Velomor's free and extremely convenient street-level bike parking area was far more than half full on Thursday afternoon, a dry fall day that could hardly have been better for bike commuting.
Which raises the question: If there are any frequent bike users among the remaining 20 percent of residents — probably about 50 people — where will they park their bikes?
What about current residents who, after living a few months in the Lloyd, might decide to get a bike and start using it regularly?
Hassalo on Eighth is planning to open a huge, equally free underground bike parking area, complete with valet service. But it's located in the basement garage of the building across the plaza from Velomor, and the bike valet isn't expected to remain open into late evening.
The problem of first-rate bike parking filling up with little-used bikes isn't unique to Hassalo on Eighth, of course. We've written several times about other apartments with similar issues, and wondered whether more apartment buildings should nudge occasional users toward the less-convenient spaces by charging several dollars a month for access to the best bike parking.
Hassalo on Eighth spokeswoman Leslie Carlson said Thursday that the landlords are working hard to promote bike use among their tenants by planning to give free rent to Go Lloyd for a "Bike Hub" in one of the development's street-level storefronts and including information about transportation options with every move-in packet. She added that even the most annoying bike parking scenario — walking across the plaza and into the basement of the Lloyd 700 office building to fetch a bike after valet hours — is probably less annoying than parking a car.
As for helping make sure that people who rarely use their bikes don't take up a large share of the best bike parking spaces, Hassalo managers continue to say the same thing they've been saying for more than a year: that they'll be able to solve the problem by politely asking some bike owners to stop using the most convenient spaces.
So far, the concierge said, the plan is working in at least one way: the people whose bikes are stored in the less convenient parking area very rarely seem to use their bikes.
— The Real Estate Beat is a regular column. You can sign up to get an email of Real Estate Beat posts (and nothing else) here, or read past installments here.