The tallest of the proposed new towers would be 32 stories tall, by far Portland's tallest east of the Willamette River.
(Image: BikePortland from PortlandMaps.com)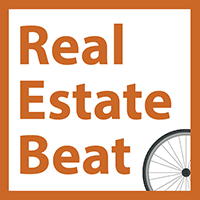 It looks as if the mother of all Portland's low-car apartment projects is likely to get a sibling — maybe an even bigger one.
Across the MAX line from the 657-apartment, 44,000-square-foot-retail Hassalo on Eighth complex opening next year that also happens to be the biggest bike parking project in North America, the same company is proposing a separate block of towers with 1,030 apartments and another 36,000 square feet of retail.
If approved and completed, it'd bring another huge burst of pressure — and, potentially, of development fees — to improve north-south biking connections through the Lloyd, including a much-discussed biking-walking bridge over Interstate 84 to create a 7th/9th Avenue neighborhood greenway linking inner Northeast and Southeast.
The tallest of the proposed towers would be 32 stories high, by far Portland's tallest building east of the Willamette River. The tallest Hassalo on Eighth building is 21 stories. Its neighbor, the Lloyd Center Tower, is 20.
Only three buildings in the city have more than 32 stories.
The buildings, which would also include 800 underground parking spaces, would replace this private park that currently hosts the Lloyd Farmers Market and other events with a central pedestrian plaza.
The Oregonian reported Tuesday that the four low-rise office buildings on the site would also be redeveloped.
Though developer American Assets Trust has been public about its intention to redevelop all 16 city blocks it owns in the Lloyd District, it hadn't formally begun the development process for its next project until this week.
Here's the official project description, published by the city Monday in its regular report of new development projects:
Pre Application Conference to discuss a Type III Design Review and possible Central City Parking Review for a "superblock" development that will include 4 residential highrise towers, ranging from 10 to 32 floors in size. Combined, the residential buildings will provide 1,030 units. The project will include 36,000 sq. ft of retail, 800 below-grade parking stalls and a pedestrian-only central plaza.
American Assets Trust executives couldn't be reached for comment Tuesday. The request for a pre-application conference is no guarantee that the project will be either financed or approved.
AAT was a key advocate for — and shaper of — the Lloyd District's new north-south streetcar line along 7th Avenue and east-west protected bike lane along Multnomah. Its regional manager, Wade Lange, said in May that the company supports further active transportation investments to connect its new properties to the rest of the city.
These projects are part of a wave of apartments capitalizing on a flow of people who have been moving into the Portland area since the early 2000s. As we reported in September, the region has failed to add rental units fast enough to meet that demand, leading to one of the harshest and longest-lasting rental shortages in the country. Rents in the bike-friendly, transit-rich central city have soared 47 percent since 2005.
Last year, The Oregonian reported that AAT was aiming for rents in its relatively parking-lite Lloyd District buildings to be 20 percent lower than those for comparable units in the Pearl District or South Waterfront.
Because the new project sits within Portland's central city, the city's code requires it to provide at least 1.5 long-term bike parking spaces per unit. If that requirement is not waived, this project would surpass Hassalo on Eighth as the biggest bike parking project on the continent.
— The Real Estate Beat is a regular column. You can sign up to get an email of Real Estate Beat posts (and nothing else) here, or read past installments here. This sponsorship has opened up and we're looking for our next partner. If interested, please call Jonathan at (503) 706-8804.