Wednesday, July 3rd, 2013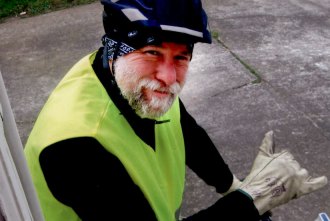 Mike Cooley, shown here ready to head out on his
daily bike commute, may never walk again.
The man who drove his truck into him
is still on the loose.
(Photos courtesy Lisa Cooley)
Update, July 5: The Cooleys have set up a fund for those wishing to support Mike's recovery. See below for details.
Two weeks after a white Ford pickup reportedly hit him from behind at 60 mph, postal driver Mike Cooley is still in critical condition at Legacy Emanuel Hospital and the person whose actions nearly killed him is still at large.
The crash took place June 15th on North Interstate Avenue near Greeley. Police have distributed photos of the truck that may have hit Cooley, with little results so far.
"There's only been one tip, and it was completely bogus," said Cooley's wife, Lori Cooley, in an interview with BikePortland yesterday.
(more…)