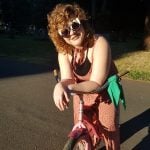 by Maritza Arango (Events Editor) on August 10th, 2021 at 11:29 am
TREATS! That word summarizes peoples' stories, tips and experiences around training their dogs to join them on the bike. Mine too. Treats have been my #1 ally through a journey of getting my dog Amélie to ride with me.
The journey I took before writing this story took me more than three weeks of observing my dog, training her with consistency, feeding her, giving her courage, trust and love and, finally, riding my bike with her. In the past few weeks I asked BikePortland social media followers about their experiences and attended the Pupperpalooza ride.
In this post I'll share some of what I learned as well as a few reader stories.
[Read more…]