Posted on November 23rd, 2015 at 3:29 pm.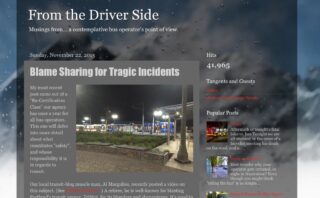 Perspective is everything.
If I've learned anything in 10 years of blogging about bikes it's that empathy for other people's views is the key to quality discourse, policymaking, and reporting. Heck, I'd even say that walking, riding, and driving in someone else's shoes might be the most powerful way for us to improve road culture in general.
That's one reason I'm happy to have come across a new (to me) blog written by a TriMet bus operator.
For two and-a-half years now the From the driver's side blog has offered what its author, The Deacon in Blue, calls, "Musings from a contemplative bus operator's point of view."
From what I've read so far, the blog offers important insights into what it's like to operate a TriMet bus on Portland's busy streets.
I first heard about it thanks to a reader who emailed us an excerpt from a post published yesterday titled, Blame sharing for tragic incidents. In that post The Deacon (I don't know his/her real name) offers thoughts after a woman lost her leg following a collision with a MAX train on November 16th.

[more…]