Posted on May 6th, 2016 at 8:35 am.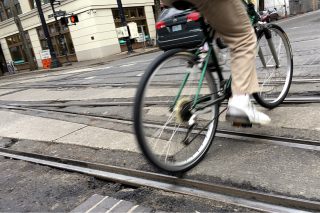 As we reported last month, the next two weeks will be good times to bike or bus all the way to work rather than trying to get a bike on MAX.
That's because MAX track and pavement repairs on First Avenue downtown that start on Sunday will scramble service on every line in the system, increasing wait times between trains by 25 to 35 percent and cutting system capacity 30 to 50 percent.
In short: good luck finding a free bike hook, or even squeezing your bike on the rush-hour trains at all.
[more…]